Seldom has a fall from grace transpired so unexpectedly yet so rapidly. Just six months ago Brendan Rodgers and his Liverpool side came within an untimely slip of clinching the unlikeliest of title triumphs. Fourteen league games later, the abyss of the Championship looms larger than the title summit.
Inquisitions rage. Explanations and complaints are passionately bellowed online, on radio and en masse. For a club of this stature one loss sparks outrage, four in succession complete civil war. A patient public we may be but, make no mistake, knives are well and truly sharpened.
Rodgers may not be Roy Hodgson but neither is he Kenny Dalglish. Put simply, he will be spared a hate campaign but never defended to the hilt. In truth his reputation lies somewhere in betwixt. Some, myself included, urge patience and consideration. For others Sunday's gutless performance marked an irreversible watershed.
Last weekend put paid to any idea of this being a mere blip. Instead it laid bare the striking limitations of a side seemingly in freefall. A quick fix is unlikely, at least without Daniel Sturridge. However Rodgers can at least halt the slide and perhaps arrest the decline if he is bold enough to make big calls; calls he has so far shied away from.
Some point to his decision to field a weakened side at The Bernabeu as evidence of pragmatism. I'd argue the following team selection at home to Chelsea dashed such thinking.
Having long promoted the idea of meritocracy, Rodgers betrayed his own principles when dropping star performers from Liverpool's 'B' Team. Kolo Toure produced the game of his life in Spain but has not featured since. The same rough justice has been dished out to Lucas, while Fabio Borini awaits just a second league start.
Of course none of the aforementioned can be deemed long-term solutions but right now they warrant action, in light of both their own form and that of their 'superiors'. Moreover this decidedly average side craves leadership and gusto, not more of the same.
Toure can feel particularly hard done by. A figure of fun, he is regularly lampooned by fans and pundits alike, the inevitable result of numerous mishaps. But consider this – Dejan Lovren has made more errors in three months at Anfield than Toure has in 15.
Sure the latter's mistakes were high-profile, compounded by some comedic reactions that serve only to burn them into one's memory. But Lovren has cost his side far more points this term than Kolo has at any time on Mersyside.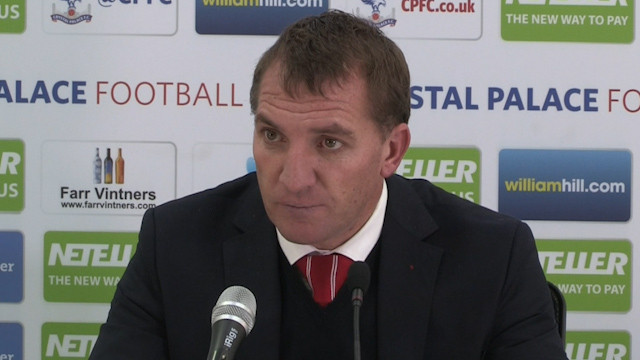 Positionally wayward the Croatian International is an accident waiting to happen. He is physically dominated, slow to react and boasts the leadership skills of Ed Miliband. A criminal waste of money his form is a major factor in what is turning into a wretched season. Still Brendan persists with HIS man, the player he posited for all summer.
First Mamadou Sakho was cast aside, now Toure ignored when physicality and organisation are amiss. Lest we forget, Sakho captained PSG at 18; Toure is a double Premier League champion. Both are proven winners and marshals in their own right. Lovren is the imposter here and, together with the erratic and mindless Martin Skrt,el needs to be withdrawn from the firing line.
Sadly there is little chance of that happening. Instead both will start Wednesday's must-win game in Ludogorets and no doubt ratchet up this paralysing uncertainty. Why? Because Rodgers is avoiding big decisions - an ignorance born of stubbornness, arrogance and blind faith.
Invariably pitched alongside The Chuckle Brothers is Glen Johnson - a man now surely behind namesake Boris in the England pecking order. A one-time marauding full back key to Liverpool's swashbuckling style, the former Chelsea man regresses weekly. His concentration levels are akin to a toddler, his casual nature dumbfounding. Still he is selected.
So too is Steven Gerrard, who cuts an increasingly forlorn and helpless figure, never mind a square peg in a round hole. Not only is Rodgers' deployment of his captain baffling, but his sheer refusal to withdraw him, be it from the off or when visibly tiring, is tantamount to cowardice.
For all his majesty Gerrard is 34 and cannot be deemed untouchable, particularly in a position he will never truly master. Starting him further forward for an hour would surely be more beneficial. Alternatively, introducing him for the final 30 with a license to roam and influence could tilt games. Make no mistake, managing Gerrard could well define Rodgers' Anfield reign. Is he brave enough to make this biggest of calls?
Right now the evidence suggests otherwise. For these are not new issues and this piece is hardly original in its content. Team selection, defensive frailities and tactical naievity have been long bemoaned by Kopites aghast at our frightful mediocrity.
When will the manager dispense with a lone forward? When will he hire a defensive coach? When will Colin Pascoe adorn trousers? These are long-standing questions yet to be answered.
The addition of Champions League football and a bigger squad has flummoxed a young manager still finding his feet. Injuries and the loss of a world-class talisman have hardly helped either. By his own admission this represents the biggest test of a fledgling career. Rodgers can turn this around but he must act swiftly before his sinking ship is fully submerged.
A side that finished runners-up last term and spent £120m in the transfer market cannot sit 12<sup>th come January. Rodgers knows that as well as his paymasters.
Aaron Cutler writes for the hugely popular Liverpool fan site This is Anfield, and is also a feature writer for Country Music People Magazine.
You can follow him on Twitter @aaron_cutler, and find out more about This is Anfield via either their website or Twitter feed.