Liverpool: Daniel Sturridge will not be fully fit until next season says Brendan Rodgers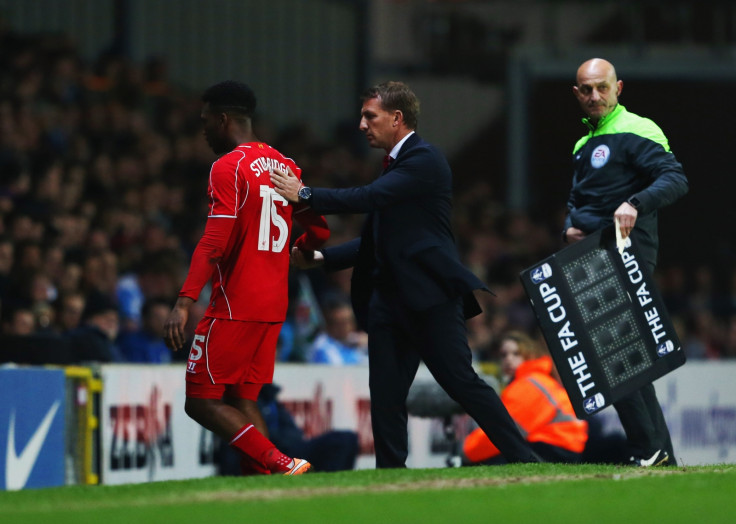 Liverpool manager Brendan Rodgers says Daniel Sturridge's fitness problems this season will continue to hinder him for the remainder of the campaign.
Since recovering from two separate thigh injuries suffered while on international duty earlier in the campaign, Sturridge has netted just four times, while Rodgers has also limited his involvement to manage the player's fitness.
Those concerns were inflamed as Sturridge withdrew from the England squad for the recent double-header in March with a calf problem but he has kept his place in the Liverpool team and will lead the attack against Newcastle United.
Rodgers responded to questions over Sturridge's form, which saw him produce an uneven display in the FA Cup quarter-final replay win over Blackburn Rovers, by claiming it will take a full pre-season for the 25-year-old to rediscover his best form.
"I knew that would be the case when he was first coming back," the Liverpool boss admitted. "Daniel was a long time out. When you're out for that length of time it maybe takes you the same amount of time to get back to that level again.
"The key for him was to get back and be fit but he needs a good pre-season under his belt, a total run at pre-season and hopefully he'll be fine for next season. Until that point, we have to maximise what we can get out of him.
"I won't spare anyone if I feel they can contribute and be effective for us. If it fits the work of the team, then I'll do that. If he's physically fit to perform, that's what's important to me. Then it's a case of how we think he can be best used, whether that's from the start or coming off the bench, until he's super-fit."
Sturridge's absence has been linked to Liverpool's problems during the early months of the campaign which, despite a recent revival prior to the defeats to Manchester United and Arsenal, is expected to see the club miss out on a Champions League place.
Rodgers added: "Every player's different. With Daniel there's been a number of injuries that he's had and that's before he came here. He had a fairly sustained run last season and served us well but this season has been difficult.
"He just needs to find a way to physically and mentally try to keep himself as fit as he possibly can but sometimes that isn't all down to you – sometimes it's about luck as well.
"He's had little training time since he's been back. We want to get as much out of him this season as possible. But I just felt that it wouldn't be until next season that he would be back too what he was last season.
"All the players will get an individual programme designed for them and their needs over the summer and Daniel will be no different."
© Copyright IBTimes 2023. All rights reserved.