Liverpool summer signing Javier Manquillo has quickly adapted to the Premier League pace and to Brendan Rodgers' demands, but is still yet to study the Anfield history, admitting he did not know who Bill Shankly is.
The Spanish right-back arrived on Merseyside in the summer on a two-year loan from Atletico Madrid after Liverpool beat Arsenal for his services.
The 20-year-old has made a positive impact in the team, covering for Glen Johnson - who missed games owing to injuries - on the right flank and proving why he is considering one of the most promising defenders to emerge from Spain.
Rodgers is working hard on Manquillo's defensive development but nobody at the club appears to have told him about one of the biggest Anfield legends, Bill Shankly.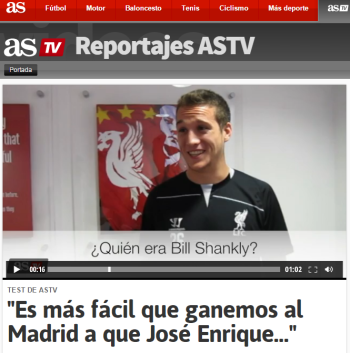 When asked who Bill Shankly was by AS during a video question, he said while laughing: "Puff, to tell you the truth ... I was very young."
However, his teammate Alberto Moreno appears to have a better understanding about Liverpool and Anfield's history. When asked about Shankly's successor Bob Paisley, he said: "He was a former Liverpool manager who won three European Cups."
Both players are looking forward to the Champions League game against Real Madrid on Wednesday 22 October, hoping "to secure a victory".
"I hope a 2-1," Moreno said.
Having being rested by Rodgers during the Sunday 3-2 victory over QPR, the Spanish duo hope to start the game against their compatriots.
Moreno has already faced Carlo Ancelotti's side twice during his time at Sevilla and believes he knows how to beat the Champions League winners.
The Spaniard saw his former team beaten 7-3 by Real Madrid in his first game against Los Blancos but his took revenge last season with a 2-1 victory.
Meanwhile, Manquillo is eager to secure a victory against Atletico Madrid's big rival after being on the losing side against Ancelotti's team in last season's Champions League final.