Cancel the birthday celebrations. Forget the FA Cup-shaped cake. Steven Gerrard will be leaving Liverpool with his final Wembley appearance behind him, in the form of a semi-final defeat to Aston Villa. The script had been written but Tim Sherwood and his men decided to rip it up, leaving Gerrard without a dream farewell and with a recurring nightmare of falling short on the trophy count, something he has been privy to during his time at Anfield.
Outplayed, outrun and out-thought, Liverpool didn't have the ideas required to break down a resurgent Villa. It wasn't the fact that the Reds didn't want it enough, rather they were taken to task by a team that has momentum behind them, a juggernaut Liverpool knew all too well when they went on their own surging run of 13 unbeaten league games earlier this season. Sherwood saved Villa from the brink and has injected belief into his players.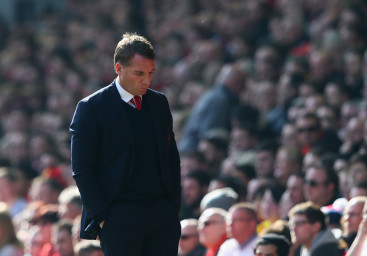 Rodgers failed to match that enthusiasm, spending his time chopping and changing the formation. No wonder Villa were able to go about their work with aplomb.
Going from three at the back to four and switching things in the midfield, putting Raheem Sterling and Philippe Coutinho on the flanks, played into the hands of Villa and left us with nothing.
Yes, Rodgers was praised earlier in the season when he implemented his 3-4-3 formation to good effect, making Liverpool's players work to their strengths.
But that got found out in the scrappy 1-0 win over Swansea before being exploited in heavy defeats to Manchester United and Arsenal. With that, Liverpool lost both their tactical nous and momentum. However, one thing has been painfully magnified: the players aren't good enough and the recruitment process has been poor.
Liverpool failed to learn the Gareth Bale lesson
Tottenham Hotspur made that mistake with the Gareth Bale situation and Liverpool didn't learn the lesson. Questions have to be asked.
'Liverpool shouldn't (and won't) be in any hurry to trade Sterling for a fee that could help bring in more players to fill gaps in the side. The Reds are striving for quality and, despite his flaws, the winger is an important piece of the Liverpool puzzle.'
Read Stacey's take on the Raheem Sterling contract situation here.
Simon Mignolet doesn't have decent back up to challenge him for the role between the sticks, and the defence may have seen an improvement in the second half of the season but it's still prone to leaks.
The midfield needs players who can display flair and composure on a regular basis, and up front, Daniel Sturridge's injuries have shown just how poor the alternatives are, with Mario Balotelli, Rickie Lambert and Fabio Borini failing to step up to the plate.
To top it off, there's no strength in depth, no one who can step off the bench and turn the game with a cute bit of skill or an injection of pace.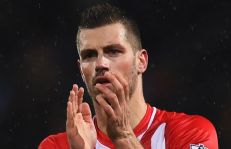 The minimum that should have been achieved this season is a top-four spot in the Premier League and a trophy in the cabinet, no matter whether that was the League Cup or FA Cup. Liverpool appear to have fallen short on both counts.
Manchester City have had a mini-revival with victory over West Ham United, which leaves Rodgers's men seven points behind Manuel Pellegrini's men, albeit with a game in hand. Champions League football next season is mathematically possible but looks unlikely.
And if Liverpool finish the season without a top-four finish, it could be the end for Rodgers. Three seasons and no trophies simply isn't good enough for the Liverpool manager. The Reds have been criticised for not being able to win big games but that's not true. Over the past two seasons, they've proved they can do that, beating the likes of Manchester United, Arsenal and Manchester City.

The highs and lows of Rodgers' Reds reign
Highs:
Finishing 2nd in the Premier League in 2014/15
Beating Manchester United 3-0, Everton 4-0 and Arsenal 5-1 last season
Signing Philippe Coutinho and Daniel Sturridge
Lows:
Slipping to fifth place in the current season
Drawing at home with Sunderland, Leicester and Bolton in recent months
Losing twice to Manchester United
However, it's the really, really big occasions where they fall short and Liverpool need a manager who can make a difference. A manager who can inject enthusiasm and tactical intelligence, and can change a game when things aren't going well.
Rodgers may have gone as far as he can with Liverpool and it may be time for new ideas and a better idea of how to return the glory days to Anfield.
Liverpool desperately need players who can step up for the big occasions - the likes of Morgan Schneiderlin, Ezequiel Lavezzi and Gonzalo Higuain would be worthy additions to the squad. They have to improve their record in the matches when it really counts, and marrying their pretty football with results when the pressure is on.
If these requirements are not met over the summer, Rodgers may well be following Gerrard out of Anfield sooner than he would like.
Stacey McIntosh is chief sub-editor of IBTimes UK. He has previously written for Metro and Men's Fitness. He is also the founder of Love Your Content, a creative agency for sports, health and fitness companies. Follow him @loveyourcontent.