Steven Gerrard had a moment of madness. The mist descended over our captain after watching a lacklustre first half against our biggest rivals from the sidelines and he wanted to impose himself on the game. His crunching tackle on Juan Mata did just that, a hark back to the M62 derby of old. An injection of punch was required from a team that failed to put a decent challenge in during the first 45 minutes at Anfield.
But a late attempt to steal the ball from our captain by Ander Herrera did leave Gerrard really seeing red. He did a Zidane. And in one of the fastest sending offs I've ever seen, our leader returned back to the dressing room, his kit sweat-free from the lack of a shift he'd put in. And now we've lost him for three games for an unnecessary stamp.
But we have bigger problems with the prospect that we could lose Martin Skrtel for his alleged stamp on David de Gea later in the game. Stamping. We've been on the wrong end of it, coming from the studs of Diego Costa in our League Cup semi-final defeat to Chelsea (well Emre Can and Skrtel were on the wrong end of it, as I'm sure their ankles would attest following that tie) and now we're dishing it out.
It's a shame for Gerrard, the last time he will take on Manchester United while a Liverpool player, but losing our rock in the defence will be the bigger blow. It's true he didn't have a fantastic game against Louis van Gaal's side but the fact that the loss at Anfield is our first in the Premier League since the previous United fixture in December 2014 shows how much Skrtel will be missed.
Successive clean sheets, albeit away from home, have shown how our unit of three at the back has been tight-knit and stubborn. Losing Skrtel will disrupt the balance and we can only hope Dejan Lovren or Kolo Toure (I'm thinking the latter) can come in and do a job that returns our defence to a point of strength.
Daniel Sturridge and Adam Lallana cursed by injury
However, it gets worse. Losing Daniel Sturridge and Adam Lallana to injuries could be an even bigger issue than not having the stampees (both proven and alleged). Not having Sturridge in the team for nearly five months this season has clearly been detrimental to our results – and how we could have done with Luis Suarez and the shift he put in against Real Madrid in El Clasico just hours after the United defeat. Not having our key striker for the remaining league games we have this season could be disastrous.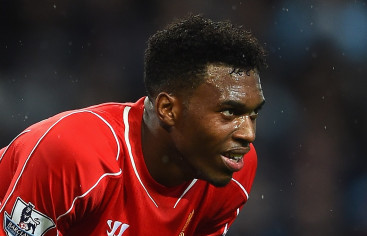 Meanwhile, after an injury-laden shaky start from Lallana, we've seen the potential of the former Southampton captain and the talent he has both on and off the ball. The impact he's made for Liverpool over the past few months has been impressive and to lose him at this stage for a long period would be frustrating.
Hopefully both Sturridge and Lallana have registered their respective knocks in order to get a rest over the international break and return fresh and revitalised as we aim to kick on during the final stages of the season.
So where does this leave manager Brendan Rodgers, who faces a top-four battle without his captain, key defender, main goalscorer and creative midfielder? With an uphill struggle, that's where. Liverpool should have really been up for it against United but their trademark pressing game, especially in the first 10 minutes, failed to materialise, just like the Swansea scrap earlier in the week.
And we never really got going until the second half, by which time we had 10 men on the pitch. I'm not saying that's the answer but Rodgers will certainly need to use the international break to look at tactics and formations in order to try and find a way to get us running on all pistons again.
The latter end of a grueling season is a tough time to find such answers but it is a time to dig deep and that's what the Reds have to do. The five-point gap between Liverpool and United in fourth place will be tricky to close, but with all the top teams playing each other, while having to do battle with the clubs fighting relegation, there's a chance for Rodgers and his men to claw their way back into the top four. And what better place to do that than against Arsenal at the start of April?
Bounce back in battle with Arsenal
Last season's 5-1 thrashing of the Gunners feels like a long time ago. Arsene Wenger's men are focusing on finishing second in the league at the expense of a floundering Manchester City, with Chelsea in their sights if all goes well. But there's no reason to think we can't outplay them in the same way Monaco did in the Champions League and three points at the Emirates will have us right back in the race.
There's no point looking over our shoulder at what Tottenham Hotspur and Southampton are doing as they creep up on us. The focus must sit firmly on what's ahead of us, in terms of taking our matches a game at a time, in order for us to have any chance of taking a seat at the top table of European football next season.
Finishing fifth and ending up in the Europa League will be a disaster and a real struggle for a team that hasn't quite got the balance right when it comes to juggling domestic and European duties. Throwing in trips across every inch of Europe in a tournament that no one really wants to play in (until they get into the latter stages with the prospect of a Champions League place) will put any ambitions of mounting a league challenge on the back burner.
So what now for Gerrard, the sunset looming on a magnificent career at Anfield? Once he returns from suspension, he'll only have a handful of matches left for Liverpool, and there's still the chance his final act at his boyhood club will be to hoist the FA Cup high above his head, a final winner's medal with the Reds finding his way into his trophy cabinet.
If that's to happen, he'll have to fight his way back into the side and keep his temper in check (and his studs on the deck). Stevie G, come April, it's in your hands.