It may be too little to late for Brendan Rodgers and his merry men but, whisper it, Champions League football next season is still a remote possibility. Everton have done us a favour, ripping Louis van Gaal's Manchester United apart in what manager Roberto Martinez has called a "near perfect" performance. Now the Reds must take the opportunity that has been handed down to them with both hands.
Following an inconsistent run of results, we could do with a lift that could boost our season and Rodgers's prospects of putting a decent team together next term.
Liverpool are in a tricky place at the moment, with Daniel Sturridge seemingly out for the rest of the season (no bad thing, playing him when he's not ready could cause issues later down the line – better to rest him now so he's fresh for the next campaign), meaning we lack an attacking threat. But possibly a bigger issue is if Rodgers's men have a real go but fail to improve their place in the table, as a fifth-place finish means Europa League football next season.
Playing in that European competition could put a dampener on the rest of the next season, a detrimental distraction that would put paid to any sort of league title challenge. Just ask the lads at Tottenham Hotspur, stuck in the second-tier merry go round for the past few seasons while looking up with envy as London rivals Chelsea and Arsenal take their regular spot among the likes of Real Madrid, Bayern Munich and Barcelona.
And it looked like Rodgers's men had that in the back of their minds as their battled out a bore draw against West Bromwich Albion, hoping Spurs or Southampton would leapfrog them. The lacklustre performance has been blamed on tiredness, players jaded by the fact that finishing in the top four appears to be a prospect that has eluded them for another season, and with the failure of reaching the FA Cup final still fresh in their minds.
Forget Europa League threat
But Everton have put a dent in United's prospects of joining Europe's elite next season and Liverpool must capitalise on that, even if the end result is Europa League football. Wins against Hull and Queens Park Rangers means only a point will separate them from Van Gaal's men, who will have to do a job on West Brom to stay in top-four contention.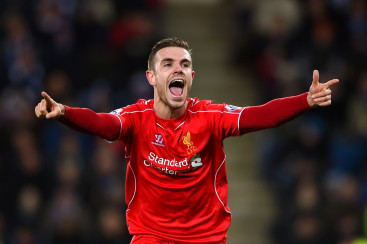 Liverpool must take encouragement from the fact that Jordan Henderson has put pen to paper to sign a long-term deal. The vice-captain's decision to join Philippe Coutinho and Sturridge by committing himself to the cause for the next few years is a strong statement of intent from the Reds.
The rebuilding process is an ongoing project but to have the man most likely to take the armband when Steven Gerrard leaves for pastures new is a big move. And where Liverpool may (or may not) have got things wrong in not being fast enough to offer new deals to Gerrard and Raheem Sterling, they've got it spot on here.
Despite an unconvincing season, Liverpool have some exciting prospects in their ranks, in the form of Emre Can, Adam Lallana and Jordan Ibe, alongside the aforementioned players. A core is being built at Anfield but more has to be done to get the right players in to make a difference to next season's league standings.
Bring in experience and quality
Youth has been chased over the past few years but a blend of experience is required to take the Reds to the next level. That was the case when Gary McAllister came in a few seasons ago.
Now Rodgers has to be bold and identify two or three players of real quality who can come in and help Henderson and co step up and offer something in tricky situations. A catalyst when Jose Mourinho's Chelsea parks the bus; players who can diffuse the attacking threat of the likes of Arsenal; those who have experience of winning silverware and can get Liverpool across the finish line in a tight season.
That will be a tough ask if the Reds fail to finish in the top four this season and miss out on Champions League football. But it's not impossible and it must be the goal, not finishing seventh. Who'd have thought Everton would do us such a gracious favour? And at the expense of Manchester United too. Gifts from the blue side of Merseyside don't come round often; it would be rude to throw this one back in their face.
Stacey McIntosh is chief sub-editor of IBTimes UK. He has previously written for Metro and Men's Fitness. He is also the founder of Love Your Content, a creative agency for sports, health and fitness companies. Follow him @loveyourcontent.