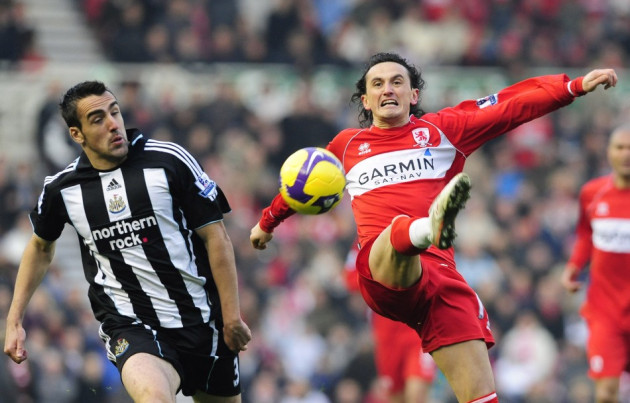 Liverpool are poised to complete the £5.5m signing of left-back Jose Enrique, despite an eleventh hour attempt from Newcastle manager Alan Pardew to persuade the Spaniard to stay at St. James' Park.
Enrique, 25, has refused to sign an extension to his current contract, which has just 12 months left to run.
Nevertheless, Pardew remains adamant the full-back could yet be persuaded to stay at Newcastle.
"I keep looking at him and smiling, hoping he is going to stay," Pardew told Sky Sports after their final pre-season friendly against Fiorentina was called off after 26 minutes because of a water-logged pitch.
"He smiles but hasn't signed a contract yet.
"He was terrific against a very good player [against Fiorentina] and showed why I want to keep him."
Liverpool manager Kenny Dalglish hopes follow the signing of Enrique with the purchase of Bolton Wanderers centre-back Gary Cahill, as he attempts to bolster his defence ahead of the club's opening game against Sunderland on Saturday.
Cahill, 25, has been heavily linked with a move to Arsenal but with Arsene Wenger reluctant to meet Bolton's £17m valuation Liverpool have now emerged as favourites to land the England international.
Dalglish's side have struggled defensively during pre-season and the Scot has long-term concerns over Jamie Carragher and Sotirios Kyrgiakos, as both enter the latter stages of their careers.
Meanwhile, AC Milan vice-captain Gennaro Gattuso is keen for fellow countryman Alberto Aquilani to join him at Milan.
Aquilani, 27, has struggled since his £20m move to Anfield in 2009 and Dalglish is eager to off-load the midfielder after signing Charlie Adam and Jordan Henderson this summer.
"The way I see it, Milan need a new man in midfield," Gattuso told reporters after his side's Italian Super Cup win over Inter Milan.
"We more or less all have the same characteristics in that area. We need a player who can get the team moving a bit more.
"Perhaps Aquilani pushes up more, while we all know Montolivo, as he has been an Italian international for years. Aquilani and Montolivo are both players of great quality."