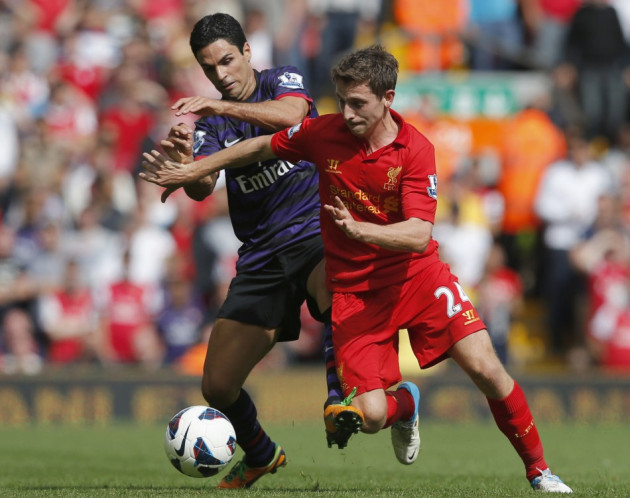 Liverpool midfielder Joe Allen has declared himself fit for the Premier League game against Newcastle United following the international break as he eyes to reignite his Anfield career.

The Wales international was left on the bench for the club's first two league games of the season but when given an opportunity to stake his claim for a consistent starting role against Notts County in the League Cup, a hamstring injury derailed his season just as it was beginning.
The former Swansea City midfielder has not played for the club since and has forced to watch his club climb the Premier League from the side lines. But after recovering from his disappointing start to the season, Allen is keen to start again.
"I'm almost there, basically. The plan is to get back into training, get a good few days leading up to the Newcastle game and hopefully I'll be available for selection from there on," Allen told Liverpool's official website.
"It has been a bit of a frustrating time it always is when you're injured - but I'm finally getting there. It was the one I had in the back of my mind anyway, so it has worked out quite nicely in that sense.
"I was disappointed: I thought I would get back for the Wales games but unfortunately they just came a bit soon. But it has meant that I got a bit of extra rehab leading up to that game. I have been able to get ready.
"With the timing of the injury, I hadn't really got into the swing of things. This is a fresh start of the season for me personally. It is great to come back with the team doing so well."
Given Brendan Rodgers' tactical switch to a 3-5-2 in recent weeks coupled with the consistency of midfield pair Steven Gerrard and Lucas, Allen may find it difficult to find a starting berth upon his return.
The pair have been ever-present in midfield thus far this season, with Gerrard having played every minute of Liverpool's Premier League campaign, while suspension for the club's 3-1 win over Crystal Palace denied his Brazilian teammate the chance to equal that feat.