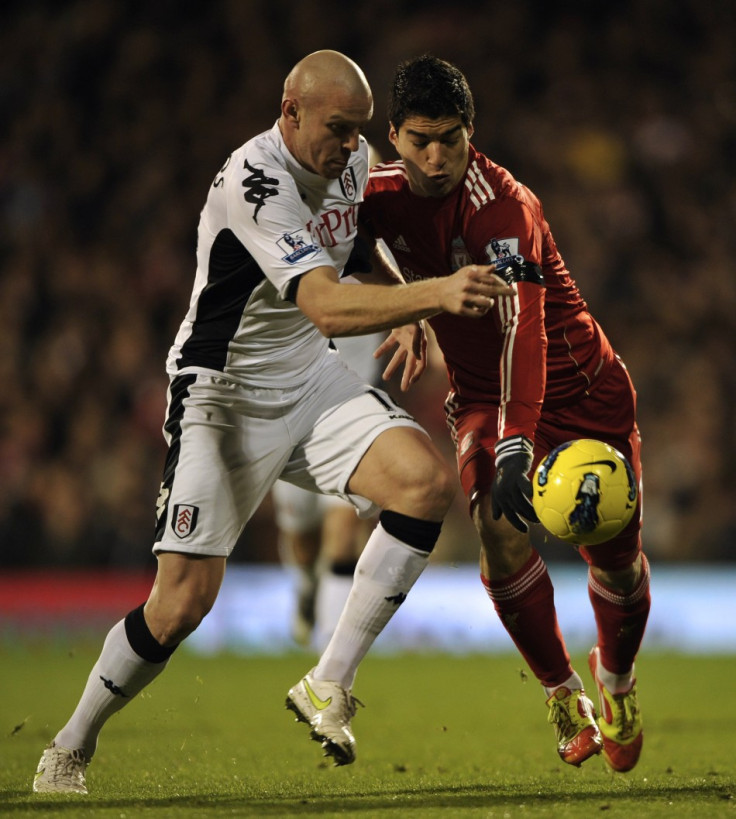 Mark Lawrenson believes Liverpool striker Luis Suarez is incredibly unfortunate to find himself at the centre of a second FA charge.
The Anfield talisman has been hit with a misconduct charge following the Liverpool star's one-fingered salute to the Fulham fans at Craven Cottage on Monday.
Lawrenson indicates the abuse levelled at Suarez during Liverpool's 1-0 defeat was inevitably going to garner the subsequently angered response, yet he suggests the punishment does not fit the crime.
The Match of the Day pundit believes the FA need only warn Suarez of his future conduct because at the moment there appears a ridiculous level of hypocrisy in regards to the abuse of players and their inevitable responses. The former Liverpool defender intimates players and managers get subjected to such vitriolic abuse, the FA need to take that in to account.
"I had to laugh when Suarez responded to the taunts of the Fulham fans." Lawrenson told The Liverpool Daily Post.
"Managers and players have to put up with an incredible amount of abuse these days, but if they react in any way, some numpty reports them to the Football Association. Grow up.
"Suarez put his finger up to the fans and was wrong to do that.
"But what happened to the people abusing him for 90 minutes? There has to be some commonsense here."
Suarez could feasibly get a two-game ban following his ill-advised gesture at Craven Cottage, yet Lawrenson believes that would be very extreme.
"At the very most, he should get a warning from the FA. But anything more would be ridiculous." Lawrenson concluded.