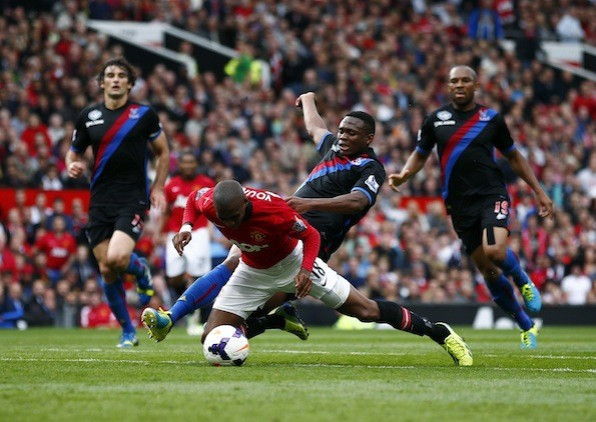 Liverpool favourite Dietmar Hamann has branded Manchester United winger Ashley Young a blatant cheater and claimed his diving antics are even worse Luis Suarez.
Young appeared to go down easily in the box to win a penalty as United faced Real Sociedad in a Champions League group game last night.
It's not the first time the England international has been criticised for his theatrics, with David Moyes and Sir Alex Ferguson both admitting in the past they would speak to him about his antics.
And Hamann believes that the biggest problem with Young's constant diving is that he hasn't taken the criticism on board and cut it out of his game, like Suarez did at Liverpool after many took issue with the Uruguay international's own ability to go down easily in the box.
"If you remember the stick Luis Suarez got, he's cut it [diving] out of his game, but Ashley Young is much worse than Suarez has ever been," Hamann told Talksport.
"Manchester United, with their reputation, shouldn't need to dive and cheat to win a football match.
"It's blatant cheating to try to win a penalty when there's no contact. The reputation of the player will suffer as well. I would say to Young, 'if you want to stay in the game for the next ten years, you've got to cut that out'. He'll end up not getting decisions any more.
"If the incident against Real Sociedad happened in the Premier League, he wouldn't have got a penalty. He only got it because the referee didn't know him."
Former Liverpool midfielder Hamann insisted that he often takes the side of the player in instances where there have been accusations of diving but insists even he can't find positives in Young's performances.
"I'm always defending players," he explained. "Gareth Bale got a lot of stick last year but you've got to be very careful, because sometimes it's about protecting yourself in anticipation of a challenge.
"If someone comes to clatter you you've got to jump because that's your first instinct, to protect yourself. Yesterday [with Young] there was no protection [issue], it was a slight touch on his arm and he stated rolling over. I just think it's in him, it will be very hard for him to cut out. It's gone too far now."
While Moyes has been critical of Young's actions in the past, this time around the manager was more defensive over his player, insisting that the referee was close enough to see if it was a dive or not.