Liverpool captain Steven Gerrard could have had a very different career had he decided to accept the advances of Manchester United when he was a promising young midfielder.
It is virtually impossible to think of Gerrard wearing anything but the red of Liverpool, but it seems his career could have been very different after revealing he was contacted by the likes of Manchester City, Everton and Manchester United when he was just eight years old.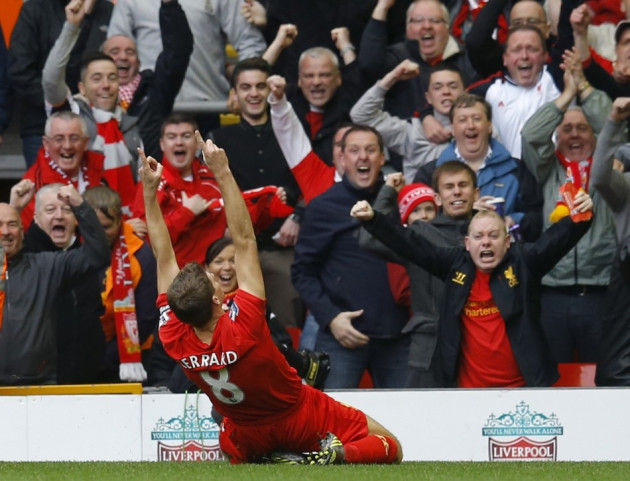 "Manchester United, Everton and Manchester City had all been in touch and basically Liverpool's interest snowballed from there," Gerrard reveals in an elusive extract from his autobiography on the Liverpool website.
"They didn't want one of their deadly rivals pinching a talent from under their noses and so invited me to go for a trial in the old Vernon Sangster Sports Centre that used to be in the shadow of Anfield, but is now no longer there, or to Melwood in the school holidays.
"Melwood? The place where Liverpool's first team train? Me? Just to be driven through the iron gates of the training ground was an amazing feeling."
Gerrard has gone on to play 592 games for Liverpool and score 151 goals in a career that began all the way back on 29 November 1998. Having captained the club for a number of years and become an idol at the club, it seems there was also one place the England man would be playing his club football.
"Three words changed my life: Liverpool want you," admits the 32-year-old. "I didn't realise it at the time, but when my dad told me of the interest from Anfield one night at home in Huyton everything altered for me: my direction in life, the path I'd take growing up, the choices I'd make from that day on.
"I was just a baby - eight years old - but that was that. A full-blown love affair had been ignited."
Having signed for the club at this tender age, few would have predicted that he would go on to become one of the all-time greats at the club.
However, Gerrard shows no signs of slowing down and Liverpool fans will hope that he still has plenty of years left at the club before calling time on a storybook career.