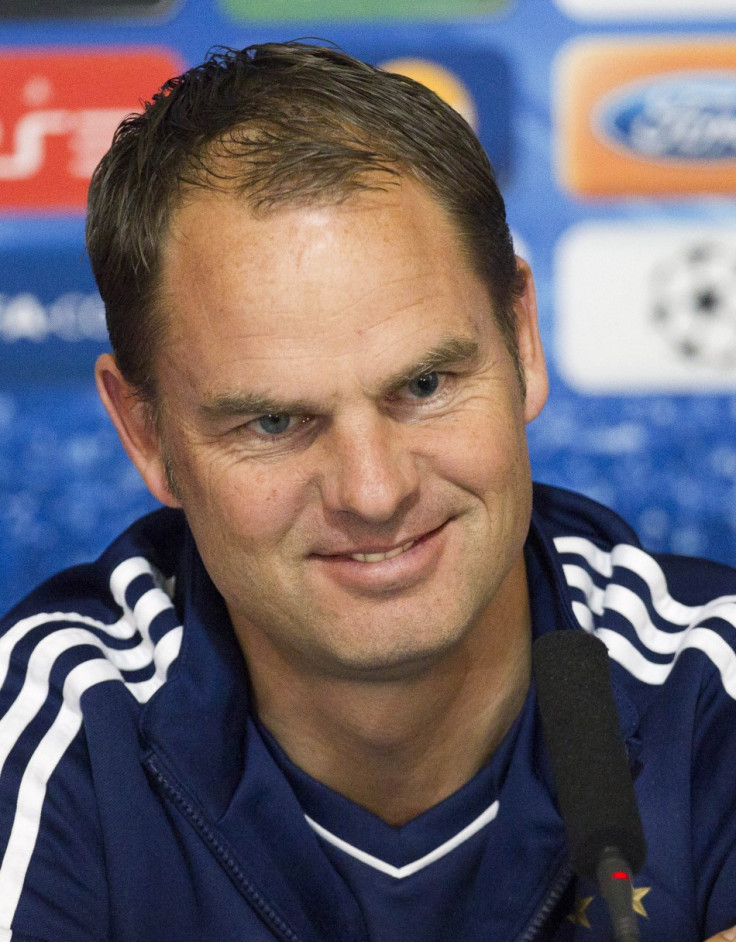 Liverpool continue their hunt for a new manager and Ajax boss Frank de Boer is reportedly the next big name associated with the Reds. However, the former Barcelona player has ruled himself out of any move in the future, claiming he is only starting his managerial career with the Dutch club.
"I am honoured by the request, but I am only just starting with Ajax. In Amsterdam we are on a new path along with the club and Wim Jonk and Dennis Bergkamp, my colleagues on the technical side. That's why I will stay loyal to Ajax in the coming years," Goal.com quoted the Dutchman as saying. The former Barcelona player took over after Fulham boss Martin Jol left the Amsterdam Arena to join the English club in 2010 and successfully guided the champions to their first league title in seven years, which they have now defended.
Another big name in Liverpool's hat is former Chelsea boss Andre Villas-Boas. The Portuguese has acknowledged the interest but has also said he will study his options carefully before taking a decision. The 34 year old has been out of work after being sacked by Chelsea in March, following a dismal run for the Blues in both domestic and European competitions. He will reportedly meet the Reds' American owners next week.
"I'm still choosing the right project and that decision will take the necessary time," the Independent quoted Villas-Boas as saying.
A third manager being spoken about is Borussia Dortmund manager Jurgen Klopp. However, he too has turned down a potential move to Anfield, stating he does not wish to leave the newly crowned German champions.
"I have been made aware of interest from England, and it is an honour to be linked with big clubs in the Premier League. But I have a contract with Dortmund until 2016 and am going nowhere. I love it here and have no intention of changing clubs," the Daily Mirror quoted the 44 year old as saying.
Klopp, who took charge at Dortmund in 2008, guided the club to their first Bundesliga title in nine years last season. They won the championship this year as well and and also demolished rivals and Champions League finalists Bayern Munich 5-2 to win the DFB-Pokal cup.
Incidentally, although the Dortmund manager has ruled himself out of a move to Liverpool, the club's winger, Kevin Großkreutz, has not. The 23 year old has seven goals and seven assists from 31 appearances this season and admits the prospect of playing England interests him.
"Everyone here is pretty much aware I am a big fan of England. Clubs like Liverpool, Arsenal or Manchester United. It would be a great thing to play in the Premiership," German newspaper Bild quoted him as saying. Großkreutz had moved to Dortmund from Rot Weiss Ahlen in 2009 and has two years left on his contract with the Bundesliga champions.