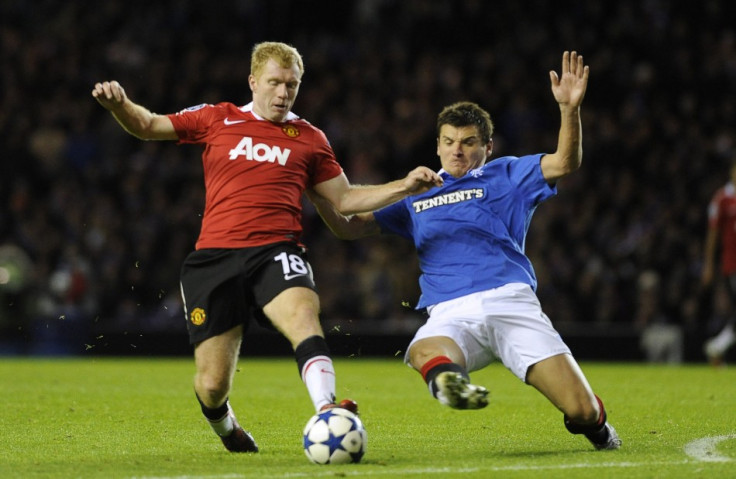 Former Liverpool midfielder Xabi Alonso has lauded Manchester United star Michael Carrick and Old Trafford legend Paul Scholes, citing their lack of action for England over the last few years as one of the reasons behind the national side's malaise during that period.
Alonso, who spent five years at Liverpool between 2004 and 2009, believes England tend to pick talented individuals rather than those "who make the team work".
Paul Scholes played 66 times for his country but given his reputation as one of the finest midfielders of his generation, Alonso suggests the former Manchester United playmaker, who retired during the summer, should have played a more pivotal role for England.
Likewise, the Spanish World Cup winner, who was part of the side that lost to England on Saturday evening, suggests Michael Carrick is the type of footballer who makes those around him better. Although the former West Ham United youngster has never truly won over the Manchester United faithful, his record since joining the club in 2006 is quite remarkable. The 30-year-old has won four Premier League titles in five years and played in three Champions League finals, yet has made just 22 appearances for England and remained unused during the World Cup finals in South Africa in 2010.
Speaking prior to Saturday's international friendly at Wembley, the Real Madrid midfielder told The Guardian: "It's hard to judge England in South Africa but maybe they failed to gel despite having excellent players.
"Sometimes it seems the English don't rate those who make the team work rather than standing out themselves.
"You shouldn't necessarily pick the best players; you have to have a collective identity."
Various England managers over the last decade have found themselves at the centre of the seemingly perennial debate about the best ways to accommodate Chelsea talisman Frank Lampard and Liverpool counterpart Steven Gerrard in the national side. Despite their imperious club form and goal scoring feats from midfield, the Premier League pair have never gelled consistently on the international stage.
Although Alonso was loath to join the argument, the Real Madrid star believes there were a number of alternatives to consider that may have made England a better rounded side.
"Hey,that's a press debate (Lampard and Gerrard axis). I'm not saying that. But the collective ideal hasn't always been there." The 29-year-old said.
"Paul Scholes maybe hasn't had the international career he should have.
"Or Michael Carrick: he makes those around him better, regardless of the fact that he's not the one who scores the most goals, or a great tackler."
Despite Alonso's comments regarding the England setup, Fabio Capello's much maligned side managed to upset the odds by beating the world and European champions at the weekend 1-0.