Liverpool: Steven Gerrard defended over El Hadji Diouf racism allegations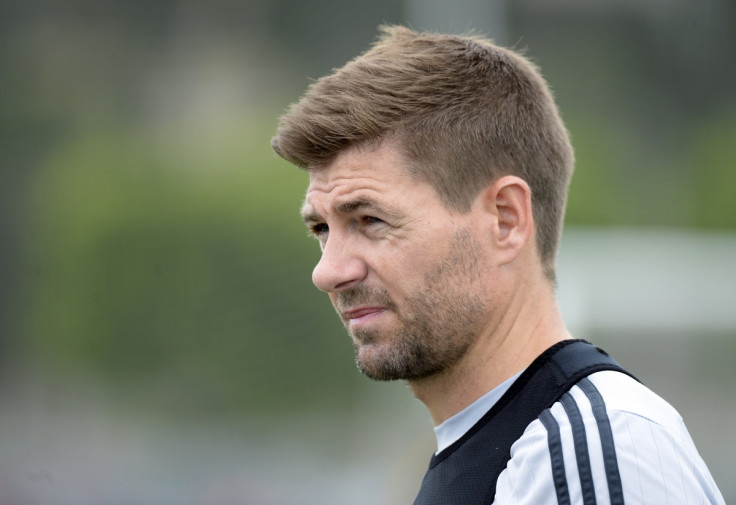 Former Liverpool and England captain Steven Gerrard has been defended from accusations of racism made by ex-Reds striker El Hadji Diouf. The two-time African footballer of the year alleged that Gerrard "has never liked black people" while claiming the Anfield club were "not a team that welcomes black [players] unless they are British", in response to criticism from the midfielder in his autobiography.
Former Liverpool winger Ryan Babel has jumped to Gerrard's defence on Twitter. "I did not get that feeling from Steve G [that he never liked black people] so I think [Diouf] got it wrong," Babel, who himself is black, wrote on the social media network. IBTimes UK understands that Gerrard refutes the assertions and the former PFA players' player of the year is currently taking legal advice while he investigates the comments.
In an interview with Radio Future Media, translated by Le10 Sport, Diouf made a string of unfounded charges against the former England captain, with the pair having played together between 2002 and 2005. Diouf was a highly divisive and controversial figure during his three-year spell on Merseyside and was banned for two games and fined for spitting at Celtic supporters during a Uefa Cup tie.
"We all saw how he made life difficult for Mario Balotelli in Liverpool," Diouf is alleged to have told Senegalese radio station Radio Future Media, according to Le10 Sport. "I warned him. Liverpool are not a team that welcomes black people unless they are British. Otherwise, you have no chance. This is common knowledge."
"Gerrard has never liked black people," alleges the 34 year old without supporting evidence. "When I was in Liverpool, I showed him that I was black, I'm not English, but I will not let him walk all over me. All the time I spent there, he never dared to look me in the eye.
"Gerrard is just jealous. What I have done in football, he did not. When I came to Liverpool, I came up with the status of boss and he lives there. I am respected in world football, the greatest football experts have appointed me among the seven best players in the World Cup, the top 100 players of the century. Several big players do not belong. Everywhere I go out of my country, they worship me. [Gerrard], wherever he goes outside his city of Liverpool, will be insulted."
The claims follow the publication of an extract of Gerrard's new autobiography, entitled My Story, in which the legendary Liverpool midfielder said Diouf was the signing he "liked the least" during his 17 seasons at the club. He added that he had no respect for the former Senegal international.
"I don't really want to waste time thinking about El Hadji Diouf but it's worth highlighting his wasted seasons at Liverpool as an example of how it can all go wrong," Gerrard wrote in his new book, according to the Daily Mail. "We had finished as runners-up to Manchester United the season before and a combination of Diouf, Salif Diao and Bruno Cheyrou was supposed to drive us to the title. It was probably the biggest waste of £18m in Liverpool's history.
"We finished the season in fifth place and Diouf had sealed his place at the top of the list of Liverpool signings I liked least. It seemed to me that Diouf had no real interest in football and that he cared nothing about Liverpool. For example, the way he spat a huge globule of gunky phlegm at a Celtic fan in a Uefa Cup match at Parkhead in March 2003 summed up his contemptuous and spiteful demeanour.
"A few people have since asked me if I saw any comparison between Diouf and Mario Balotelli – and I've always said no. I've got respect for Balotelli; I've got none for Diouf."
© Copyright IBTimes 2023. All rights reserved.