Stewart Downing says he's ready to prove that he is worth a starting spot in the Liverpool line-up, as the winger gets ready to take his chance against Young Boys in the Europa League tonight.
Downing has had a difficult time since making the move to Liverpool from Aston Villa in the 2011 summer, struggling to make an impact in his first season with the club.
Since Brendan Rodgers took over, Downing has had chances to impress, and his goal against Gomel in Liverpool's first Europa League match has put him in a good position to build on that form tonight.
And he believes that if he performs well, Rodgers will have no choice but to select the 28 year old when Liverpool take on Manchester United on Sunday.
"You want to play every game," he told the Echo. "If there are places up for grabs, now is our chance to stake a claim. I want to do well and hopefully be in contention for the weekend."
Downing knows not to underestimate Young Boys after they defeated Tottenham in the Champions League two seasons ago, and will be taking the game as seriously as any one in the league.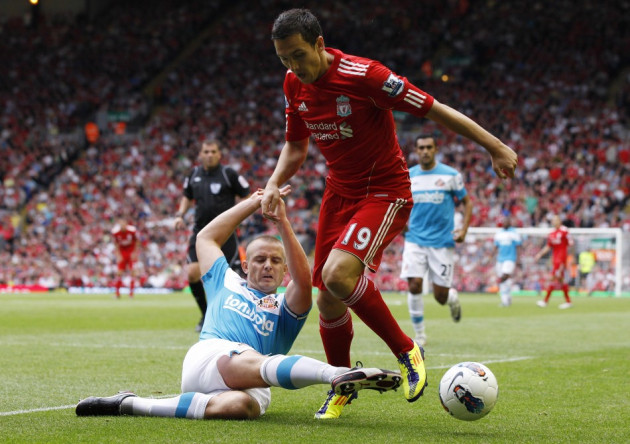 He explained: "We saw them at the start of the season before last against Spurs and it will be a similar sort of team.
"They're very good at home and I'm sure they will be straight out of the blocks against us. We'll be ready for that and that's why it will be a big test for the young lads and why they will have to be right on the mettle from the word go."
Rodgers has made a point of giving younger players such as Raheem Sterling a chance in the European competition, and Downing believes that the manager will have the perfect blend of experience and youth tonight.
"Obviously there are quite a few young lads here and it will be great experience for them," he said. "There are a couple of older lads who can help them along the way like me, Carra and Jose Enrique. It will be a good game to play in.
"They've been around the squad, they have travelled and they know what it's all about. In terms of the game, I would say to them, 'go out and enjoy it'.
"It's a chance for them to play against some top players and to gain European experience."