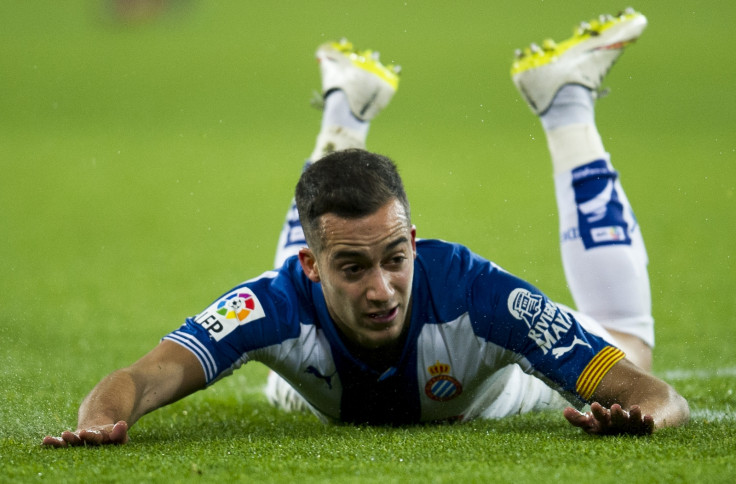 Real Madrid winger Lucas Vazquez has admitted his future at the Santiago Bernabeu is uncertain but refused to confirm recent reports claiming Liverpool have made an approach to secure his services in the summer.
After scoring eight goals with Real Madrid Castilla in the second division during the last campaign, the Spanish giants loaned the 23-year-old forward to Espanyol in summer 2014 to give him first-team experience.
Vazquez has since become a crucial asset for the Catalans, starting 21 La Liga games out of 24, while scoring two goals and registering four assists.
Espanyol have told Real Madrid they are ready to pay compensation - said to be close to £2m ($3m) - to secure his services on permanent basis this summer but recent reports claimed Liverpool were willing to outbid the Catalans with a £7m offer for the winger.
With Cristiano Ronaldo, Gareth Bale and even Jese Rodriguez ahead of him at Real Madrid, Vazquez's future at the Santiago Bernabeu look all but uncertain, so Los Blancos are reportedly ready to listen offers to part ways with their academy star.
But when asked during an interview with Spanish newspaper AS whether it was true he had been approached by Liverpool, Vazquez said: "I have no idea. I know nothing; I do not know what will happen."
Vazquez expressed his delight about Espanyol's interest in securing his services on a permanent basis but said he did not know what is future prospects are.
"Al those words are a compliment to me, a recognition of my job, so I'm very grateful," he said of Espanyol. "The truth, if I'm honest, is that today I do not know if I'll be here or anywhere else. So for now I just want to enjoy playing, keep working and improving."
But asked about his real preferences and where he would like to play next season, Vazquez said: "I'll keep that to myself."