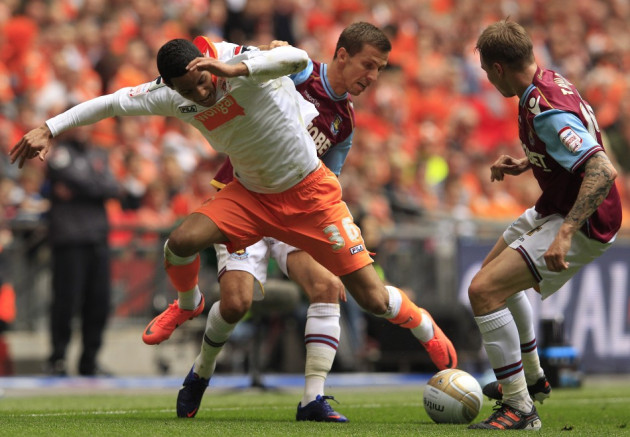 Liverpool could decide to prevent Cardiff City from landing winger Tom Ince despite the Premier League new boys having an offer accepted by Blackpool.
It is believed that Blackpool accepted an offer in the region of £8m plus add-ons on Saturday, leaving Liverpool just 48 hours to match their offer.
The Blackpool Gazette reveals that as part of the deal that saw Ince leave Liverpool for Bloomfield Road, a clause was inserted to ensure that the club had the chance to resign the winger by matching any bid that was accepted.
That would mean that the Merseyside club have until this afternoon to match Cardiff's offer or else they will miss out on the England Under-21 international who was heavily linked with a return to Anfield in January.
Blackpool manager Paul Ince had indicated that he did not want to lose his son and stated over the weekend that a sit down meeting would take place on Monday to discuss his future.
"Cardiff have come in massively for Thomas and the chairman has accepted their offer," said Ince. "When he comes back (next Monday), we'll sit down and see what we want to do. He loves it here and has told me he's in no rush to leave the club."
Despite the offer being accepted Ince senior still feels as though there is a good chance that Blackpool's star player will still be at the club next season.
"I think it's 50/50 at the moment if he'll stay or not. It's a tough one for me. I want my son playing in the Premier League but I also want him here playing for me. He'll be back in with us on July 8," added the former Liverpool and Manchester United midfielder.
Ince scored 18 goals for the Seasiders last season and there has been much speculation about his future this year. He was heavily linked with a move in January, while Tottenham and Liverpool have continually been linked with him this summer.
Liverpool have already made four signings this season and manager Brendan Rodgers has shown a preference to sign young players since taking over from Kenny Dalglish last summer.
Ince was allowed to leave the club under a different manager and there is a belief that Rodgers may well be keen to bring him back to Anfield after a superb season in the Championship with Blackpool.