Brendan Rodgers is pleased that Alex Inglethorpe has decided to leave his role at Tottenham in order to become the new reserve team coach at Liverpool.
The 41-year-old has played an integral part in overhauling the Tottenham youth team structure and has particularly impressed with the NextGen side as he masterminded a 4-1 win over Barcelona earlier this month.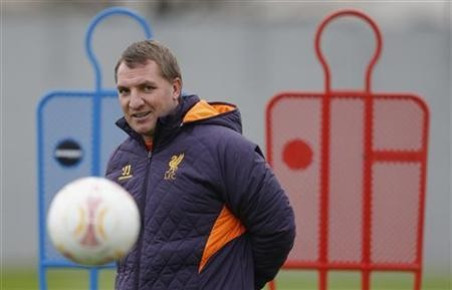 Inglethorpe first joined Tottenham in 2006 after a spell in charge of Exeter and has worked with a number of youth teams, helping the likes of Steven Caulker, Danny Rose and Andros Townsend force their way into the first team squad.
However, Rodgers was keen to bring the highly-rated coach to Anfield and he hopes that Inglethorpe can continue the good work that is being done at the club.
"I'm delighted that Alex has decided to join us in our journey to create a philosophy that runs directly through the club," Rodgers told the official Liverpool website. "He has many years of experience in youth football and also managed at senior level. His unswerving belief and commitment to our way of working will bring continued success in this role."
Liverpool have relied heavily on their youth structure since Rodgers took charge of the club in the summer, with a number of academy players going on to become regulars in the first team.
The success of the young players has had a lot to do with Rodolfo Borrell who has now been appointed as head of academy coaching. The Spaniard arrived at the club in 2009 and initially worked with the Under-18 side before becoming boss of the reserves.
"I've been extremely impressed with Rodolfo in my short period at the club," continued Rodgers. "His thinking is very similar to mine in the best way to educate and develop players. His role will make richer the philosophy we are creating at the club from U9s through to the first team."
Like Tottenham, Liverpool are also competing in the NextGen series this season and Inglethorpe will hope to quickly turn around the club's fortunes as they currently sit bottom of their group with two games remaining.