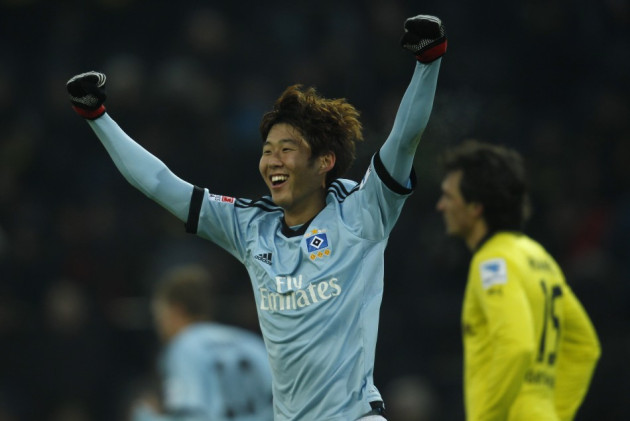 Liverpool and Tottenham Hotspur were both interested in signing South Korean forward Son Heung-Min, according to the player's agent, who has refused to rule out a future move to the Premier League after the striker joined Bayer Leverkusen from Hamburg
Son has starred for Hamburg since moving from the youth team in 2010, and at just 20 years of age the youngster has shown a potential to be a genuine force in front of goal.
Last season his tally of 12 goals in 33 appearances in the Bundesliga brought attention from numerous clubs, with Liverpool and Tottenham among many who were interested in taking on Son to help boost their Champions League qualification attempts.
And now Son's agent Thies Bliemeister has confirmed that the clubs were among five in England who were chasing Son's signature.
"Liverpool, Tottenham, Fulham, Southampton and Cardiff were interested in concrete terms," he told Bild.
"At the beginning and Manchester City. To Chelsea and Manchester United have observed Son. I think, at clubs like Liverpool and Tottenham, he would also be able to play."
Son was signed from Bundesliga rivals Hamburg as a replacement for Andre schurrle, who last week a deal was agreed for him to join Chelsea ahead of the new season.
Bliemeister, who is a family friend of Son's as well as his representative, explained: "I think Leverkusen for the next two or three years is the right step to develop.
"Son feels at home in Germany and in the Bundesliga. He speaks the language perfectly. Surely the Premier League could someday be the goal.
"But the Premier League is getting better and more interesting."
Son's future will no doubt depend on how he performs over the next season with Bayer.