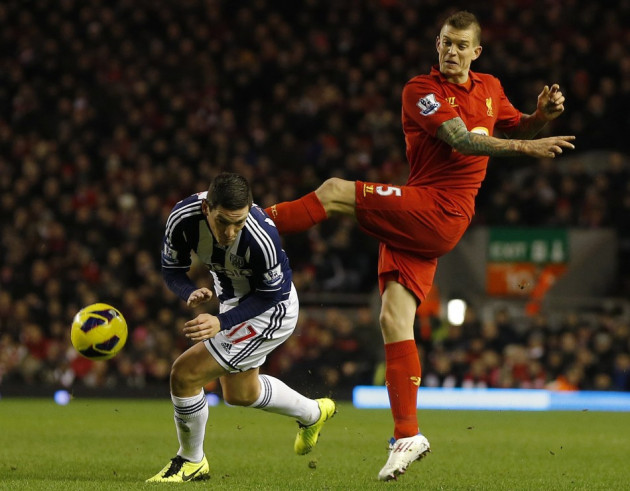 Barcelona have turned their attentions to Liverpool defender Daniel Agger, according to reports.
The La Liga champions have been keeping a close check on a few members of the Reds' squad over the last season, with reports claiming they are looking at Pepe Reina as a possible replacement for the outgoing Victor Valdes.
The interest has so far only been speculation, though Reina has admitted that he would consider returning to his former youth club if a concrete offer were on the table. And now Sport.es are reporting that Agger is also on Barcelona's list of possibilities for the transfer window, with the side hoping the 28 year old can provide back-up for Carlos Puyol.
Puyol is now 35 years old, and after making over 400 appearances for the Barcelona side age is beginning to catch up with him.
While Agger is an important member of the Liverpool squad, Tito Vilanova is reportedly confident that Rodgers could be tempted to sell for around €15m.
The temptation to join a club who are consistently challenging for the Champions League, as well as winning trophies every season, would no doubt be present for any player in the Premier League outside the top four.
Luis Suarez has already made this point clear in his own assertions that he would like to join Real Madrid if a concrete offer comes in, though the striker equally blames the media's portrayal of him for wanting to leave Liverpool.
At the start of May, talk surrounded a possible exit for Agger, but the 26 year old insisted he is happy to see out his contract at Liverpool, which runs until 2016.
"I still have three years left and I intend to fulfil them," he said. "There are always rumours, but who is creating them? I don't know.
"It is not a bad thing to be linked with top clubs but you have to take 70 per cent [of the speculation] off and then you have the reality."
Should Barcelona make their interest concrete though, the Denmark international might change his tune.