Liverpool have agreed a £7.7m fee to sign Celta Vigo forward Iago Aspas, according to the Liverpool Echo. The 25-year-old Spaniard is expected at Anfield for a medical next week before completing his move from Spain.
The report adds that the move for Aspas may be offset by news Uruguay striker Luis Suarez has declared himself open to a move to Real Madrid. The nine-time European champions have been linked with a summer approach for the 26-year-old and Suarez told Uruguayan station Radio Sport 890: "It would be very difficult to say no to Real Madrid".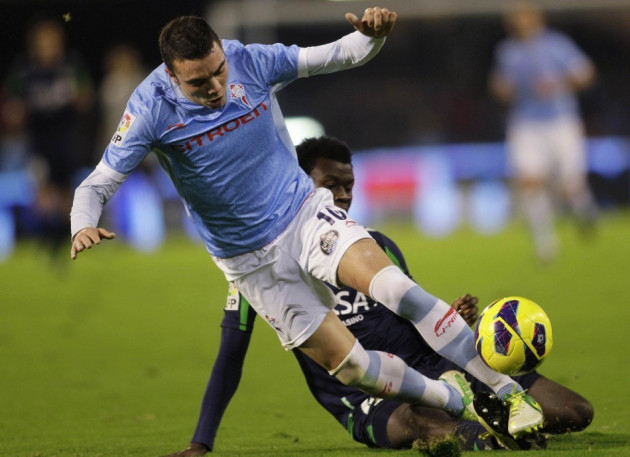 The Galician club was promoted to the Spanish top flight last summer and Aspas has led his club's fight to avoid relegation, with 12 goals and six assists in 33 La Liga starts. Celta are presently 18th in the league and trail Deportivo La Coruna by one point with one game remaining.
Celta face Espanyol, at home, on 1 June, in the final round of games. Deportivo, meanwhile, will host Champions League-chasing Real Sociedad in their game.
Aspas' form has alerted a number of top European clubs, with the Reds' domestic rivals Chelsea and Tottenham also tracking the player. Sky Sports believes Liverpool manager Brendan Rodgers' former club, Swansea City, are also interested in the player.
With so much interest in Aspas, it is understandable that Rodgers has moved quickly to sign his target. At this stage though, there have been no confirmed reports from either of the parties involved about a move.
Aspas' versatile style of play will likely fit well with the vision Rodgers has for Liverpool, given the young Spaniard can play either as striker or out wide on the wings. And the player's age and asking price fit in with the club owners' plans and budget as well, making this a good signing all round, if it goes though.
The Reds have already confirmed one transfer ahead of the new season, with Ivory Coast international Kolo Toure agreeing to join after his Manchester City contract expires. The former Arsenal defender will be a replacement for veteran Jamie Carragher, who retired at the end of this season.