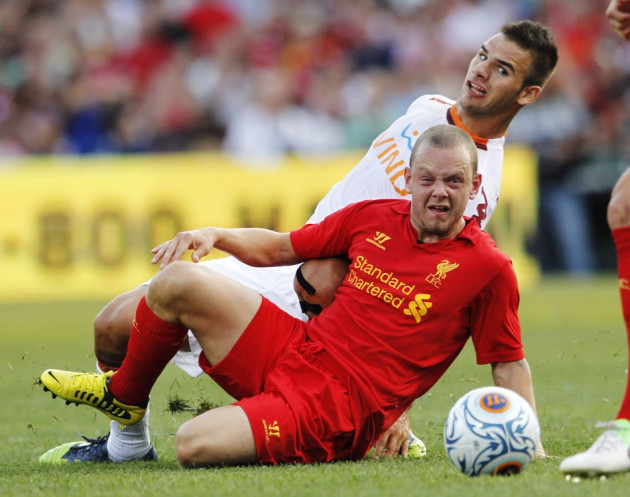 Blackburn Rovers have had a £1.75m bid accepted by Liverpool for Jay Spearing which leaves Bolton Wanderers now facing a race against time to make an offer for the midfielder.
Spearing spent last season on loan at Bolton and now looks set for a permanent exit from Merseyside this summer as Brendan Rodgers attempts to overhaul his squad.
Recent reports had linked the midfielder to a possible move to Newcastle, but Bolton and Blackburn have so far been the only clubs to show an interest, according to Bolton News.
While Spearing would prefer to return to the Premier League, the Englishman looks set for another season in the Championship as Rodgers has made no indication that he would welcome the player back to the club this summer.
When Rodgers came into the fray at Liverpool last summer, he commented Spearing was the heart and soul of the club.
He said: "He's a player who has come through the system here, and I've known him since he was a young player, he has great qualities, and a player who has the soul of the club in his heart."
But as the purse strings have tightened and Rodgers looks tobuild a squad capable of qualifying for the Champions League, his opinions of Spearing have clearly evolved into seeing the footballer as surplus to requirements at Liverpool.
The issue for Bolton is that with Blackburn stealing the march on their rivals, a price has now been set which the Championship side have to meet if they want to secure Spearing permanently.
The player would reportedly prefer to stay at the Reebok Stadium, but Bolton are very quickly running out of time to make a concrete offer with Liverpool.
Manager Dougie Freedman is believed to be trying to find the £1.75m to secure Spearing's signature, but should he not be able to, it will be particularly difficult for the manager to see one of his top transfer targets playing for Bolton's Lanchasire rivals.