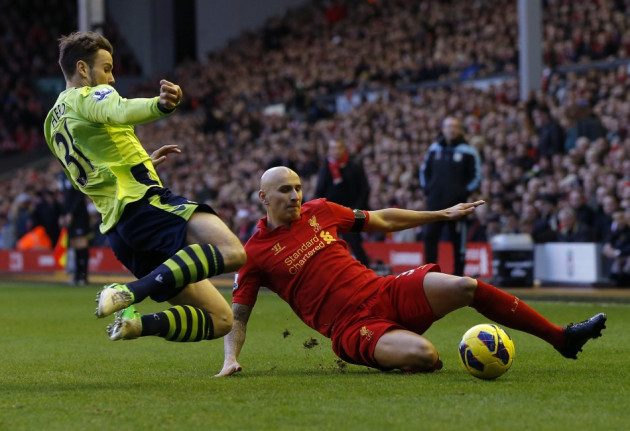 Swansea City aren't the only interested in signing Liverpool midfielder Jonjo Shelvey as Crystal Palace are also ready to compete for his signature by making an offer of £5m.
Shelvey has admitted to feeling frustrated by a lack of game time with the Reds over the last campaign, with the 21 year old said to be considering a move away from the club as he looks to further develop his skills.
Swansea yesterday confirmed that they were interested in the starlet, but now the Liverpool Echo claim that Palace also hope to sign Shelvey for a fee of around £5m.
Liverpool reportedly believe that the England prospect is worth closer to £7m, but as Brendan Rodgers looks to make cuts wherever possible to finance purchases, the side have accepted the lower bid and will leave the decision of where he goes to Shelvey.
Palace have so far signed midfielder Jerome Thomas on a free transfer from West Brom, along with Dutch midfielder Ismail H'Maidat, but the side will be planning to add more Premier League experience to their squad as they look ahead to a season back in the top flight.
The loss of Wilfried Zaha also calls for more investment in the side, who are boasting a hefty transfer fee in their pockets as a result of the English youngster's move to Manchester United.
Liverpool were hopeful that with both Palace and Swansea interested in the starlet, the price for Shelvey would be driven up and they would receive a fee closer to their asking price.
But both clubs are on strict budgets this summer and the Reds have accepted that they won't receive the amount they were hoping for. But they may well be able to buy another young prospect with the £5m they receive for Shelvey's signature.
Swansea chairman Huw Jenkins confirmed Shelvey was a target and that he is in discussions with the Merseyside club, but a bid hasn't been confirmed by the Welsh side as yet.
"There is an interest there and we are talking to Liverpool," he told reporters.