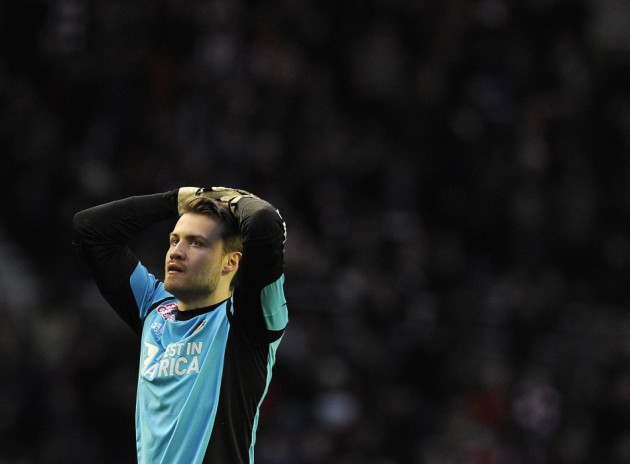 Liverpool have been quoted £9m as they continue to pursue their interest in Simon Mignolet, while alternative keeper target Victor Valdes has claimed he is staying at Barcelona for another season.
Mignolet put in performances that saw him named Player of the Season by Sunderland last season, but he has revealed that he didn't enjoy being a member of the side that fought off relegation and suffered from consistently poor form.
Liverpool are believed to be on the lookout for another keeper, with Pepe Reina connected to a move to Barcelona as the eventual replacement for Valdes, who is now entering into the final year of his contract.
Reina has admitted that it would be hard to say no to his former club, and with that the Reds are reportedly hoping to find a replacement who can unequivocally commit their long term future to the side.
Valdes was reportedly on their list of possible replacements, with a swap deal possibly in mind. But Barcelona president Sandro Rossell has insisted that he has been informed that the Spaniard will remain with the club until his contract expires next summer.
"Valdes' agent has officially informed our director of football, Andoni Zubizarreta, that Victor intends to see out his current contract, which we are pleased to hear," he told Spanish publication Marca.
Valdes himself name-checked Reina as a possible replacement for when he does leave the club, but if he does stay at Merseyside for another season it will complicate things for Liverpool who could be missing a big chance if they fail to land Mignolet this summer.
Sky Sports claim that Brendan Rodgers has been quoted £9m if he wishes to purchase the Belgium international, while Arsenal are believed to be interested in both Mignolet and Valdes as well, creating some stiff competition for the Reds.
Should Liverpool bring Mignolet in this summer, they will need to guarantee the shot stopper game time, particularly with a World Cup coming up in 2014 and a need to show off his skills in the hope of being selected for the Belgium team.
But Reina could still yet move to Barcelona this summer, with the Catalan giants considering planning to replace Valdes before he retires to give the understudy time to settle in.