Middlesbrough have 72 hours to land Liverpool winger Stewart Downing on a loan deal, with reports circling that the Championship club are interested in taking the out-of-favour winger on as he goes in search of more game time.
As the season has continued, it has become clear that Downing will not get the minutes he requires under Brendan Rodgers, with the England international believed to be amongst a group of players that the incoming manager doesn't see as part of his future plans.
Liverpool spent a great deal of money on players when Kenny Dalglish was in charge, and the majority of those haven't worked out for the club, with Jordan Henderson struggling for game time, Charlie Adam moving to Stoke, Craig Bellamy going back to Cardiff and Andy Carroll out on loan at West Ham.
Downing is another of Dalglish's purchases who Rodgers clearly isn't interested in keeping in the squad, and last week reports were circulating that he would be allowed to leave in January for a cut-price deal as the club look to slash their wages.
While Premier League clubs are said to be interested, for now a loan deal at Middlesbrough would make sense because it would give the 28 year old a chance to show his skills in preparation for the January transfer window. The football league loan window closes on Thursday and the club will reportedly enter into talks with Liverpool over the next few days in the hopes of getting the agreement over the line.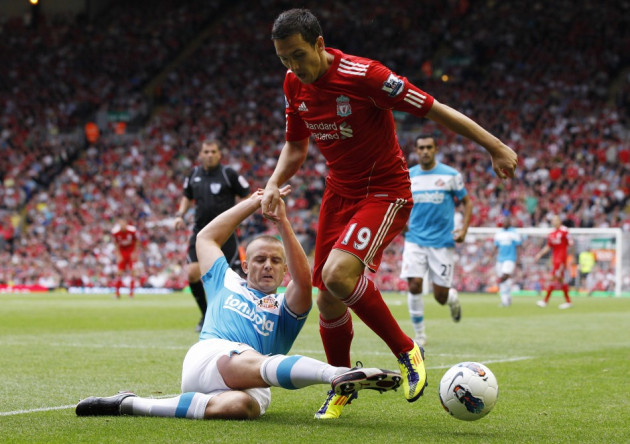 Local paper Northern Echo are reporting that with 72 hours until the 5pm deadline on Thursday, the side are working hard to get the deal over the line with Liverpool, though they won't be able to afford the full amount of Downing's Premier League wages.
Rodgers recently admitted that he was disappointed with Downing's progress this season, telling reporters: "Stewart is a good guy who came here for an awful lot of money
"It hasn't quite worked out for him as he would want it. The big challenge for him now is that commitment to the cause to fight because he has the qualities.
"He has a wonderful left foot, but talent alone is not enough. You have to work hard, you have to fight for the shirt.
"We have seen that with a number of the young players and if you don't do that then longer-term you won't be here."
Downing was put off by the comments, claiming that Rodgers' feelings about his form should have stayed private as he aimed to prove the manager wrong.
But now that this option has become available, it would appear that a loan spell away from the club would be the best solution for all parties.
And if Middlesbrough are in pole position to move up into the Premier League, the club might be able to broker a deal to take the winger on permanently, with his worth believed to be around £10 million.