Liverpool are putting out feelers for Inter Milan midfielder Wesley Sneijder, according to La Gazzetta dello Sport. The Dutch playmaker has not featured for the Nerazzurri for three months, after pay disputes with the club.
The Italians asked the former Real Madrid star to take a cut from his present £200,000 per week wages but were rebuffed. The report now claims the Reds are ready with a £9.5m bid to persuade Inter to release the 28-year-old.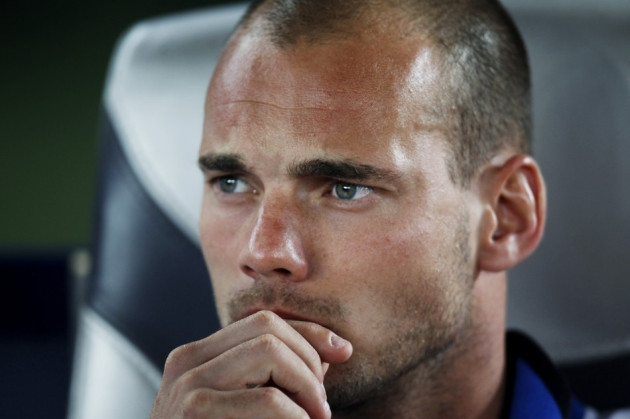 However, the question of wages will once again decide the issue. Liverpool will have to shatter their present wage structure to accommodate the Dutchman, something unlikely to sit well with the club's financial chiefs or even the players. The Reds will hope the promise of regular first-team football will appeal enough to Sneijder to make him take a pay cut.
Sneijder is keen to leave the Giuseppe Meazza and Serie A in January.
"Clearly it's best for everyone concerned that in January I am transferred," the Daily Mail quoted the playmaker as saying.
However, it remains to be seen if he will eventually take a pay-cut to facilitate a move to the Premier League. In any case, reports linking Sneijder with Liverpool come a few days after his agent cooled speculation of a move to Tottenham Hotspur.
Sneijder, who joined Inter from Madrid for around £12m in 2009, has made 114 appearances in all competitions for the Italian club, scoring 25 goals and recording 39 assists.
Rodgers: Hope Keeps Stars at Liverpool
Meanwhile, Liverpool coach Brendan Rodgers has said players like Luis Suarez need to feel there is a chance of winning titles and playing Champions League football in the near future, if they are to remain at Anfield.
The Reds are ten points adrift of the top four at the midway point of the season, as the Northern Irish tactician continues to rebuild the squad.
"The players need to feel there is hope. I don't want people who don't want to be here, but top players like Steven Gerrard, Daniel Agger and Luis Suarez have all committed to the cause," the former Swansea City manager told Sky Sports, adding, "They obviously feel there is hope that the model will work. The reality is we're a team that haven't been challenging for the last number of years and it is going to need that wee bit of time."