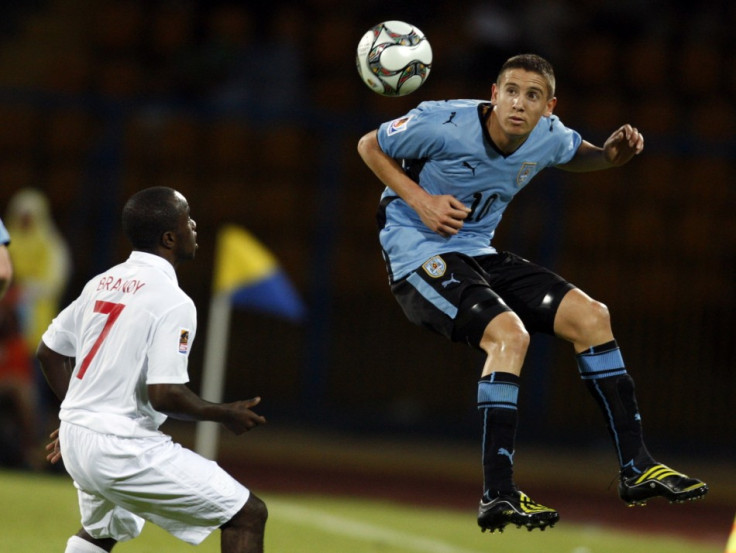 Liverpool and Manchester United have been dealt a blow in their pursuit of Gaston Ramirez, with the playmaker insisting he's happy to stay at Bologna for the long term future.
Ramirez has starred for the Serie A outfit since signing with the club from Penarol in 2010, and with January only days away the Uruguay international was earmarked by numerous press outlets for a possible move to the Premier League.
Liverpool and United were particularly connected to Ramirez, with Kenny Dalglish concentrating on scouting Uruguayan players of late, and Sir Alex Ferguson hoping to bolster the Red Devils' midfield after Darren Fletcher pulled out the squad for the foreseeable future with an illness.
But both of the English giants will have to look elsewhere for their transfer targets, with Vincenzo D'Ippolito maintaining that his client will be staying in Italy.
"There is nothing to say about Ramirez. He's only just extended his contract. He won't be leaving Bologna," D'Ippolito said, as reported by Talksport.
Manchester United have continually insisted that they are not looking for any new talent in the January transfer window, and Ferguson has admitted that the long term targets the club are interested in don't look likely to be available even if the club do want to dip into the market.
But that hasn't stopped the rumours flying around of a possible deal for some sort of midfield support, with United currently suffering from 11 players being in doubt, including Chris Smalling who is suffering from an illness.
United are currently flying high, and bucking all predictions that their form would slip as a result of the building injuries, winning their last two matches 5-0. But without the likes of Fletcher or the retired Paul Scholes, one would wonder how long the side can go without a creative midfielder.
Liverpool, meanwhile, are looking to build on all areas as their side suffered a disappointing December, with lacklustre results and the possibility of losing Luis Suarez for up to nine matches next year.
Dalglish has a particular leaning towards Uruguayan players, and after Suarez and Sebastian Coates signed for the Merseyside club this year, the manager has also signed a formal agreement with South American side Nacional to have first refusal on their young players.
Ramirez would have been another player to join the likes of Suarez and Coates at Anfield, but Liverpool will have to look to other players now in their hunt for new talent in the January transfer window.