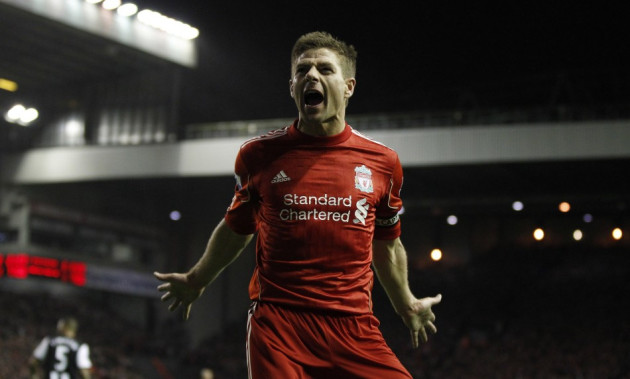 Steven Gerrard has urged Liverpool supporters to be "responsible" ahead of Saturday's FA Cup fourth-round clash at Anfield.
The Liverpool captain's sober remarks are in stark contrast to Wednesday's jubilation at reaching the Carling Cup final and demonstrate the club's concern over the upcoming visit of fierce rivals Manchester United.
Saturday's lunchtime kick-off will be the first meeting of the two sides since the race row between Patrice Evra and Luis Suarez erupted in October. Suarez remains suspended after the Football Association upheld Evra's allegations. The Uruguayan will serve the seventh game of his eight-match suspension after being found guilty of racially abusing the Manchester United defender.
Up to 6,000 Manchester United fans are expected at Anfield on Saturday and Gerrard has called on the home support make the occasion a day to remember, for the right reasons.
"We all have a responsibility on Saturday to ensure that this game is remembered for the football," Gerrard told the official Liverpool Web site.
"Liverpool and Manchester United is a massive rivalry and of course there is going to be stuff in the papers and banter between fans, but it would be fantastic if after the weekend it is remembered for being a top game and obviously, from our point of view, a Liverpool win.
"We don't want any front page stories from this game or any stories besides a football match between two top sides."
Meanwhile, Stewart Downing insists he is starting to find his best form in a Liverpool shirt, after Dalglish singled the winger out for praise last weekend.
"It was very nice to hear. The manager has been really good to me from the first day I came," Downing said."He's given me lots of confidence - and it's the same with every other player.
"He's great to play for. That's all you want as a player - a manager who is honest with you, who gives you the confidence to go out and play.
"I started quite brightly, then was in and out, and now I'm starting to pick up form again.
"I want to play all the time but the only way I can do that is to play well. I've got to keep my head down and work hard, and the last couple of weeks I'm pleased with how it's gone personally."