Lloyds boss Antonio Horta-Osorio: Banks should live with regulation to win back trust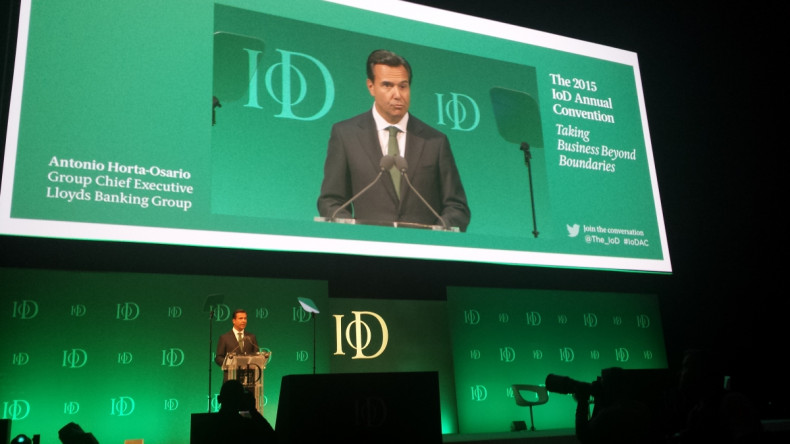 The financial sector will have to deal with living in an environment of strict regulation because of its past mistakes, Lloyds chief Antonio Horta-Osorio has said. Although he thinks the regulation from governments and independent bodies was "unprecedented", the banker said banking culture will have to change in order to win back customer trust.
At the Institute of Directors' annual convention at the Royal Albert Hall in London, Horta-Osorio said Lloyds had a special responsibility to change the position of banks in society. "A succession of revelations of past practices has rocked our industry to its core. PPI, Libor rate fixing, they have all taken their toll, and rightly so, on the relationship banks have with customers and society at large," he said.
He said the loss of customer trust was even more devastating as the mutual relationship between society and banks is vital to sustain the economy. Speaking to almost a thousand heads of businesses across the UK, the Lloyds chief admitted the misconduct by banks pre-2008 created a relationship of mistrust.
"While we cannot and should not attempt to minimise these issues and we cannot change the past, I am optimistic about the future," he said. "Since the financial crisis, we have seen an unprecedented level of regulatory change. We must recognise that this is, in part, a response to past behaviours, and a necessary foundation for stability and confidence in the industry going forward."
By shedding non-core assets and focusing on its UK division, Lloyds is creating a low-risk business, Horta-Osorio said. Although the bank chief made no significant mention of the £2bn government shares being sold to the public, and the completion of the bank's privatisation, he did speak about his company's plans for the future.
Horta-Osorio has publicly defended ringfencing and he has now said regulation by bodies such as the Financial Conduct Authority and the Serious Fraud Office is necessary, but not enough. "A strong economy requires a healthy banking sector, and vice versa. As the largest retail and investment bank in the United Kingdom, Lloyds has a special responsibility in this respect," he said.
The Portuguese bank boss said the challenge banks face now the economy is turning around again mainly has to do with the balance between its relations with shareholders and its relations with customers. He warned of the squeeze from shareholders to increase profits and said banks could not stop focusing on managing risks properly.