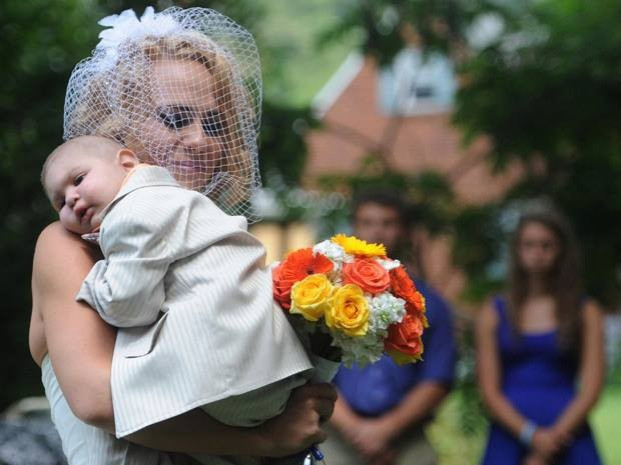 A baby boy died in his mother's arms after serving as the best man at his parents' wedding in Pennsylvania. The parents - Sean and Christine Stevenson abandoned original plans for a July 2014 wedding after being told their son, Logan, had only a few weeks to live.
Logan suffered from Fanconi anemia, a rare disease that leads to cancer. A cancerous mass on his kidney was revealed in a test in July.
The wedding took place on 3 August in Jeannette, a suburb of Pittsburgh, and two-year-old Logan passed away in his mother's arms two days later, a family spokesperson told Associated Press.
Christine shared the news on her Facebook page on Monday.
"Sean and I held him all day he was comfortable with his medication then at 8:18 my son took his last breath in my arms," an emotional Christine wrote, adding, "I'm so sad upset and I'm in disbelief...he is with angels and he's in no more pain...no more sickness no more hospitals."
"She's so strong and so good with her kids," said Kellie Young, Logan's aunt, "They're a very blessed couple despite the situation."
The news dying baby Logan would serve as best man at his parents' wedding drew worldwide attention and donations.
Check out the final photos of Logan Stevenson, as best man at his parents' wedding...