Redknapp: QPR's New Signing Can Join United, Arsenal or Chelsea
Queens Park Rangers manager Harry Redknapp says he tempted prospective new signing Yann M'Vila to the club by promising him a move to the Arsenal, Chelsea or Manchester United within 18 months of his contract.
M'Vila and French counterpart Loic Remy are set to join Rangers in the January transfer window to attempt to lift the club off the bottom of the Premier League table.
But with the Rs five points from safety, Redknapp had found attracting new players to Loftus Road a problem, and says he lured M'Vila to QPR by assuring him of a move to Arsenal, Chelsea and United after just 18 months at the club.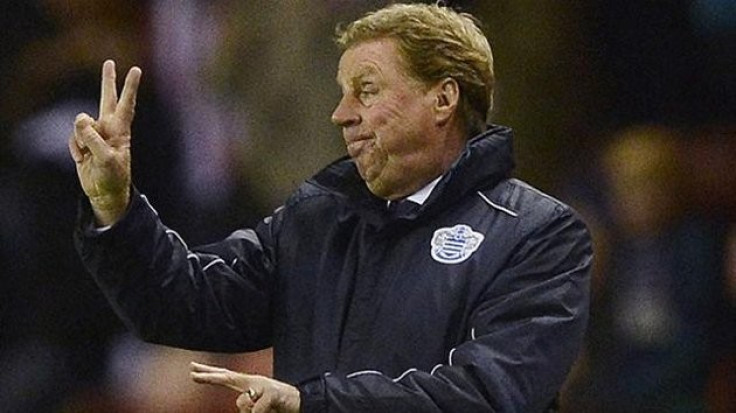 "I just made him feel he was wanted, that is the key," Redknapp said.
"I told him that he would come here and be a good player, and if he does well, if we stay up, in 18 months he could get a move to Manchester United, or Arsenal, or Chelsea, if that is what he is looking for.
"In the meantime he could come here and we put him on the stage and show what he can do.
"If we can build a team then hopefully he will stay with us. If not he will put himself on the stage for bigger things.'
"He is a top, proper footballer. He can play. He controls the game, he can pass the ball, he is strong.
"He's had a few problems off the field but he is only young. If he behaves himself and comes and plays for us as he is able to then he will be a great asset."
While Arsenal have previously been linked with a move for M'Vila, Chelsea and United have seldom been reported to have any interest in the Rennes midfielder.
Former Tottenham Hotspur manager Redknapp admits he attempted to sign M'Vila during his days at White Hart Lane.
"I also liked M'Vila when I was at Tottenham," he added. "He's 22, played against England a couple of years ago for France, and was fantastic.
"Arsenal and Spurs made offers for him. I promise you that. They (Rennes) turned down £28million from an English club for him a year ago. Spurs offered £15million for him in August. The deal looks okay.
"M'Vila's had a few problems off the field problems. If he behaves himself, and plays as we know he can, he'll do well.
Meanwhile, Redknapp is also reveling in the additon of Remy, the Marseille forward who rejected has rejected the opportunity to join Newcastle United, to support The Hoops' relegation campaign.
"Remy had a medical which went fine and the personal stuff is all sorted," Redknapp confirmed.
"I'd given up to be honest. The chairman Tony Fernandes did it to be honest, not me. I went over to Marseille last week and he (Remy) wasn't keen, I don't think. I did speak to him about a couple of players we were looking to bring in.
"He was excited by that and then the chairman worked ever so hard. He wouldn't give up on it and Remy decided he wanted to come. I watched him so many times when I was at Tottenham. The fee then was around about £20million. He's a good buy for us.
"He's quick, a French international, his movement is excellent and he has the potential to be a real star in the Premier League. Newcastle United wanted him and [their chief scout] Graham Carr doesn't make too many mistakes. Graham's got good judgement."
© Copyright IBTimes 2023. All rights reserved.