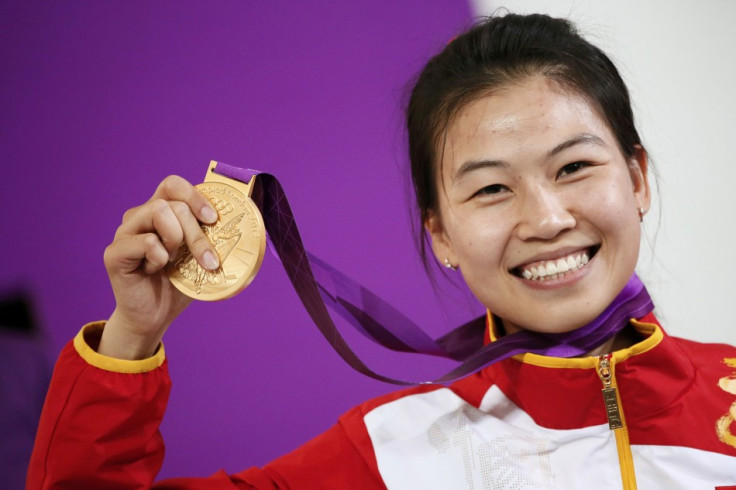 Chinese shooter Yi Siling has become the first gold medal winner of the 2012 London Olympics, emerging triumphant in the women's 10m air rifle event. Sylwia Bogacka of Poland came second to take the silver medal, and China's Yu Dan won bronze. Beijing 2008 gold medallist, Katerina Emmons of the Czech Republic, finished fourth.
The 23-year-old world number one beat Bogacka by 0.7 points in the final at the Royal Artillery Barracks in Greenwich. Bogacka qualified in first place and was leading until the eighth round of the 10-shot final when she made a mistake to allow Yi to edge ahead in the dying stages. Yi's win follows her win at the International Shooting Sport Federation's World Cup series in Munich. She received the gold medal from International Olympic Committee Chairman, Jacques Rogge.
"I'm very happy. I want to say thanks to China, to my mother and father. I have been shooting since I was 13 years old. I've been up since 5am this morning. There was a lot of pressure on me," Yi said.
Meanwhile, British shooter Jennifer McIntosh finished a thoroughly disappointing 36th. The 21-year-old, who is a double Commonwealth Games gold medallist, said she was disappointed to have let down the home crowd.
"The score wasn't so great, the placing wasn't so great but I'm pretty happy with how I performed. There was a lot of pressure with the first medal of the home games. The crowd were mind-blowing, their reaction was pretty awe-inspiring. It was good to know that everybody in that crowd was behind me and I'm just sorry I didn't manage to make it into the final," the Telegraph quoted McIntosh as saying.
Meanwhile, in the swimming heats at the Aquatic Centre, Michael Phelps, who won eight gold medals at the 2008 Beijing Olympics, qualified for the evening's final of the 400m individual medley... but only just. Phelps snuck through into the final in last place.
"That one didn't feel too good. [But] the only thing that matters is just getting a spot in. You can't win the gold medal from the morning," Yahoo quoted the American as saying. Phelps' time of 4:13.33s was just about enough to earn him a spot in the final and keep Laszlo Cseh of Hungary, the silver medallist in Beijing, out of the final.
This will be Phelps' last competitive appearance. The 27-year-old champion has announced that he intends to retire from international swimming.