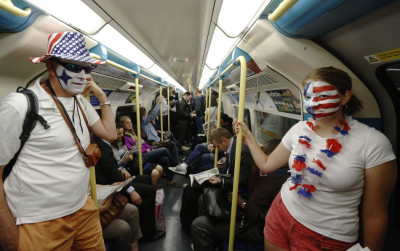 The London 2012 Olympic Games has already seen its fair share of spectacular performances but one aspect of the event that cannot be understated is the importance of the crowd and atmosphere.
So far, despite empty seats, the audiences at every event, from fencing to rowing, have been spectacular, with members of Team GB being greeted by rapturous applause, no matter their discipline.
It is rare to see an interview with an athlete, Team GB or not, where the participant does not mention the enthusiastic crowds, who push the athletes on to the best performances of their careers.
Team GB fans shouted their loudest at Eton's Dorney Lake, where the women's pair of Heather Stanning and Helen Glover picked up the team's first gold medal of the Games.
A record crowd of 70,584 turned out to watch the women's GB football squad defeat Brazil, a total that came close to the highest of an Olympic football match - 76,489 at Altanta 1996.
So far London's commuters, the majority of whom were braced for their daily trip to work being destroyed by an invasion of vuvuzela-blowing Olympic crowds, have emerged practically unscathed, as the capital's transport system has stood up to the test.
IBTIMES UK takes a look at some of the most colourful members of the Olympic crowds in London to support their team.
London 2012 in Pictures : Team GB's Mud, Sweat and Tears