Locog)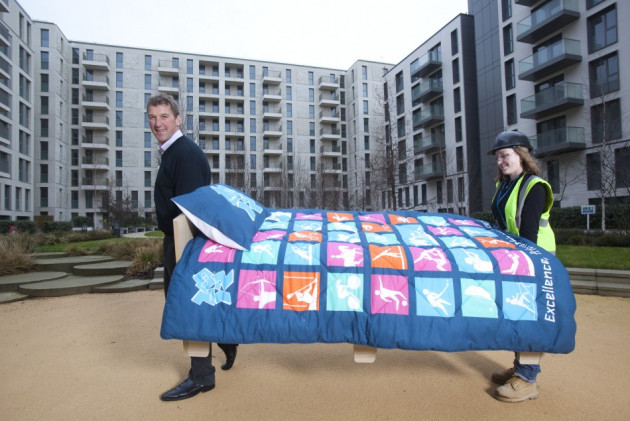 With six months until the start of the London 2012 Olympic Games, the finished Olympic Village that will be home to the world's best athletes has been handed over to organisers.
All that's left to do is kit out the interiors of the 2,818 apartments with beds and other home essentials.
Once everything is done, there will be 16,000 beds, 64,000 bed sheets, 21,000 pillows, 9,000 wardrobes, over 170,000 coat hangers, 11,000 sofas, 5,000 bins and 5,000 toilet brushes in the Village.
Four-time gold medal-winning Olympic rower Matthew Pinsent lent a hand heaving the first beds into the apartments.
Sporting stars will benefit from onsite facilities, including a café, general shop, bank and beauty salon.
"Athletes are at the heart of the London 2012 Games and our plans for the Olympic Village will provide them with a home-from-home as they prepare for one of the biggest sporting moments of their lives," Sebastian Coe, chairman of the London Organising Committee for the Olympic Games, said.
"With the village handed over we are starting the huge process to install essential facilities and services ready to welcome competitors from around the world."
About 16,500 people have worked on the Olympic Village since building work started in June 2008.
After the games the apartments will become homes and the area known as East Village.