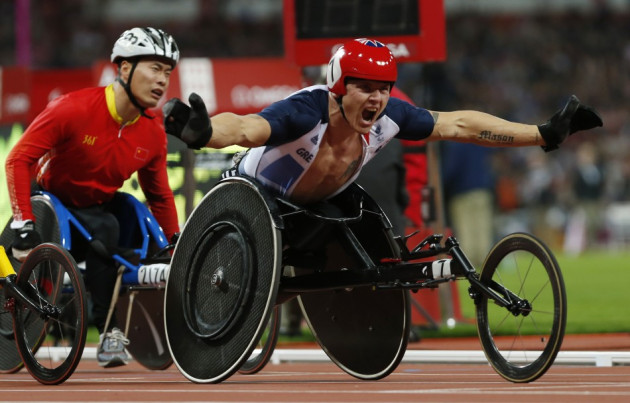 Thousands of fans are expected to flock to central London to watch the Paralympic marathon, which will see David Weir and Shelly Woods carrying Britain's medal hopes.
Weir and Woods race in the T54 division for men and women wheelchair racers.
There are two other competition formats - the T12 for athletes with a visual impairment and the T46 for athletes who have lost a limb or have a limb deficiency - which will see just male athletes taking part.
Weir, 33, is at the top of the favourites list. He has dominated the London Marathon for the last six year, winning it uninterruptedly since 2007. He already holds three gold medals from London 2012 - in the 800m, 1500m and 5000m.
Born in the suburb of Layton in Blackpool, Lancashire, Woods, 26, is also a former London Marathon winner and was awarded with two medals at the Beijing Paralympics in 2008.
The T12 and T46 events will begin at 8am on 9 September while the T54 starts at 11:30am.
The race will follow the same course as the Olympics marathon - starting and finishing on the Mall in front of Buckingham Palace. The 26-mile course, comprising three laps, takes athletes past a plethora of historic monuments, including the Tower of London and St Paul's Cathedral.
Although access to the Mall is ticketed, access to the rest of the course is free.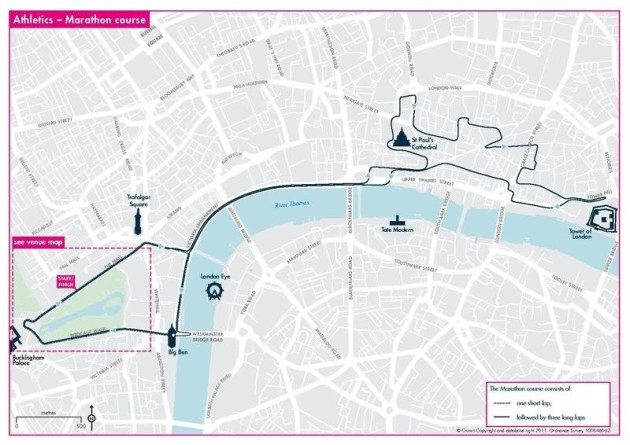 The IBTimes UK has collated the best areas where you can watch the event in London live for nothing:
Victoria Embankment Gardens
Victoria Embankment Gardens are among the best places to see the marathon. Athletes will run the full length of Victoria Embankment from Westminster Bridge to Blackfriars Bridge. The garden will provide a bit of extra space, as well as some shaded areas to escape the blazing sunshine - the Met Office forecasts maximum temperatures of 27C in London.
Nettleton Court
Nettleton Court, opposite the Museum of London, offers a dedicated disabled viewing area in the heart of Aldersgate - one of London's most historic wards. It takes its name from a gate in the Roman wall around London, built almost 2,000 years ago.
St James's Park
The Mall, where the race starts and ends, is accessible only to ticket holders. Nevertheless the track passes by Birdcage Walk, on the other side of St James's Park, where spectators can cheer on their favourites.
The London Eye
With its amazing view and air-conditioned capsules, the London Eye is an ideal spot for an elevated view of much of the action. Lengthy queues and high ticket prices are the downsides.