A former abbot who molested children at a scandal-hit Catholic school has been jailed for 18 years.
Andrew Soper, 74, faces the likely prospect of dying in prison after being found guilty of a string of sex attacks on boys at St Benedict's School in Ealing, West London, in the 1970s and 80s.
He used his position as headmaster to sexually assault his pupils during punishment beatings, his trial heard.
Soper fled to Kosovo with £182,000 and lived as a fugitive for five years when the allegations were first put to him.
He was found guilty of 19 counts of rape and other sexual offences against 10 boys earlier this month after a 10-week trial at the Old Bailey.
Sentencing Soper on Thursday (21 December), Judge Anthony Bate said: "You are an intelligent man with gifts of scholarship and erudition. However, as you acknowledged during cross examination, showing a degree of insight, that is not how you will be remembered.
"Your good qualities are utterly overshadowed by the proven catalogue of vile abuse for which you are now at last held to account. Your disgrace is complete."
Jane Humphryes QC, Soper's defence barrister, told the court her client "maintains his innocence... and describes his situation as a serious miscarriage of justice".
Soper joined St Benedict's as a teacher in 1972 before becoming headmaster of its middle school from 1977 until 1983, teaching boys aged between 11 and 14. He was the abbot of Ealing Abbey, the school's parent body, from 1991 until 2000.
His trial heard how he would subject pupils to sadistic beatings for "fake reasons", such as using the wrong staircase or kicking a football in the wrong direction.
He would cane and sexually assault some of his victims during the punishments, the prosecution had said.
Upon his retirement, Soper went to work at the Benedictine headquarters in Rome.
His victims said they didn't report the sex attacks at the time out of fear of further beatings and because of the respect Soper was held in the Catholic community, including among their family members.
The first allegation against Soper was made in 2004 when a former pupil claimed he was sexually assaulted while being punished in his office. Nine more former pupils then came forward with similar allegations of sex attacks.
Soper was arrested in 2010 and bailed pending further enquiries. However, a European arrest warrant had to be issued the following year when he skipped bail and fled to Kosovo. He told jurors he went on the run out of "stupidity and cowardice".
Soper said: "If you want to destroy a priest, vicar, anybody, all you have to do is make an accusation up against them. Their future is ruined, their character is ruined."
He was eventually arrested in Kosovo and deported to the UK last year.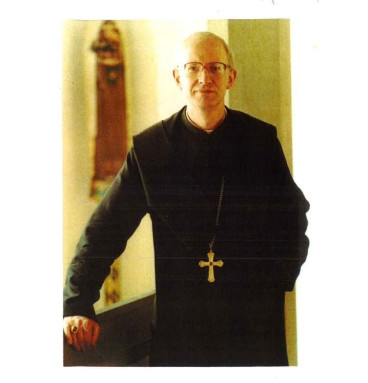 Following the guilty verdicts, his former school apologised unreservedly for the "serious wrongs of the past".
An independent review of child sexual abuse at Ealing Abbey and St Benedict's was launched in 2011 after a former head of St Benedict's was convicted of abusing five boys dating back to 1975.
Nicknamed the "devil in a dog collar", Father David Pearce, 75, was jailed for eight years in 2009 for abuse that spanned 36 years.
Between 2003 and 2009, "master of discipline" John Maestri, 78, admitted five indecent assaults against children at St Benedict's dating back to the 1980s.
And in 2010, John Skelton was convicted of indecent assaults against two victims in 1983.
Lord Carlile's independent review found that the monastic community had failed to properly deal with behaviour that put children at risk, and that the governance of the school lacked "independence, transparency, accountability and diversity, and is drawn from too narrow a group of people".
Following Soper's sentencing, Detective Superintendent Ang Scott said: "Soper abused his position of trust as headmaster of a middle school over a sustained period of time. Throughout the investigation he has attempted to evade justice by leaving the UK and then failing to answer his bail.
"I would like to pay tribute to the victims in this case for the bravery they have showed in coming forward and reporting these offences and giving evidence at court. Although it can never make up for the emotional and psychological trauma caused by Soper's crimes, I hope the sentence handed to him today can give them some form of closure. This case demonstrates that perpetrators of sexual abuse, no matter how long ago it took place, can be prosecuted and subjected to a custodial sentence."