Cardinal Bernard Law, the man at the heart of the Boston clergy child sex abuse scandal who has died in Rome, was never punished for his role in the cover-up.
Law, who died today (20 December), became the symbol of clerical sex abuse when the Boston Globe's Spotlight team published its damning exposé into widespread child abuse in the US' largest Catholic archdiocese.
When the scandal broke in 2002, Law was the Archbishop of Boston.
The Spotlight investigation revealed that he and his predecessors had spent years covering up paedophilia offences committed by more than 250 priests in Boston.
With evidence gathered from church registries and court files, the Spotlight team thrust the sex abuse scandal into the public domain.
"Documentation was the spine of our story," Spotlight journalist Mike Rezendes said in 2015 while promoting the Oscar-nominated film about the investigations. "Our investigation was bulletproof because of the church documents which proved it was a systematic cover-up that had lasted 30 years."
The investigation also revealed that Law had transferred priests who had been caught abusing children to different parishes, without alerting parents or the police.
"When Cardinal Law shuffled these priests out of parishes where they had been caught, he moved some into other [parishes] and some into the military where they served as chaplains, which fell under federal jurisdiction," Rezendes told IBTimes UK.
As the accusations mounted, Law was forced to resign and fled to Rome where he found a safe haven behind the walls of the Vatican. He was appointed archpriest of the Basilica of St Mary Major, one of the four principal basilicas in Rome, and served in the Vatican's Congregation for Bishops, which recommends appointments to the Pope.
"After we published, Cardinal Law went on a sort of apology tour and made several apologies to the people in Boston for the prevalence of clergy sexual abuse and the job that the archdiocese had done. He apologised for the course of the year until he finally escaped to the Vatican," Rezendes said.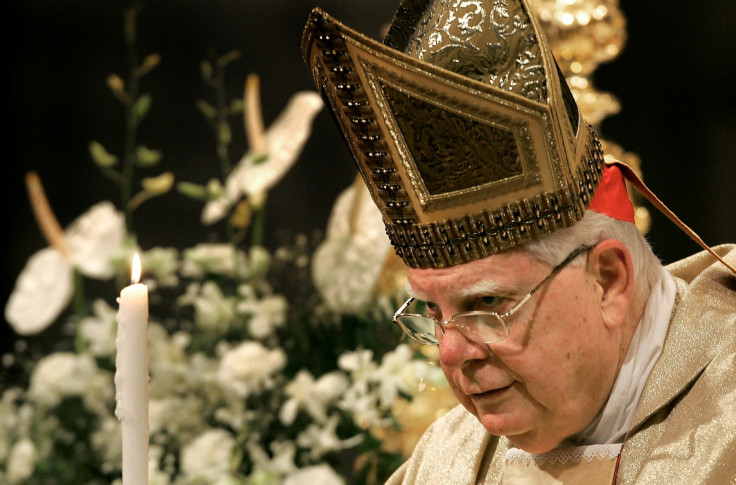 Law was never punished for his complicity or charged in a federal or state criminal investigation.
"Most priests who abused children were not criminally charged," Rezendes said. "That is because victims usually don't come forward until many years after the abuse has occurred and by that point it is no longer possible to criminally charge the priests."
Mitchell Garabedian, a Boston attorney who represented dozens of clerical abuse victims, said that Law's death would remind "many victims of the pain of being sexually abused".
"Cardinal Law turned his back on innocent children and allowed them to be sexually abused and then received a promotion in Rome," Garabedian said.
Alexa MacPherson, who was abused by priests in Boston for six years, told the Associated Press that she would not be mourning Law.
"Good riddance to bad rubbish. I hope the gates of hell are swinging wide to allow him entrance," she said. "I won't shed a tear for him - I might shed a tear for everyone who's been a victim under him."
"He just continued to hide everything and cover it up all in an effort to maintain this perfect image of the church," she added.
Barbara Sidorowicz, the mother of three abuse victims, said she was unable to forgive Law for the pain he had caused her family.
"I cannot ever turn my back on my faith but I can't find it in my heart to forgive," she said. "I cry over what happened to my children but I can't cry over him. I can't even get myself to say a prayer for him. He should have been in jail."