The Only Way is Essex star (Towie) and This Morning presenter Ferne McCann has urged her boyfriend to hand himself over to police in connection with an acid attack at an east London nightclub.
Arthur Collins, 25, from Hertfordshire, is wanted for questioning after 20 people suffered burns when acid was sprayed at revellers inside Mangle E8 in Dalston in the early hours of Monday morning (17 April).
A spokesman for McCann, 26, – who had only recently revealed her plans to marry Collins – said she was not at the club at the time of the attack, but urged her boyfriend to speak to police.
He said: "Ferne is aware that the police wish to speak to Arthur Collins and the nature of the accusations against him.
"Obviously these are highly shocking and Ferne has co-operated with the police in their inquiries. She was not with Arthur on Sunday night; was not at Mangle; and has no direct knowledge of the events that unfolded.
"As much as anybody she wants to know the truth and urges Arthur to co-operate fully with the police and attend a police station immediately."
Detectives believe the acid attack happened when a dispute between two groups of people inside the club saw a male suspect spray a noxious substance directly at two other men.
The two men, aged 24 and 29, are being treated at a specialist burns hospital in Essex where they remain in a serious but stable condition, police said.
Some 18 other people also suffered various burns after being hit with the acid, with 12 people treated in hospital.
On Tuesday, the Met Police released two images of Collins urging anyone with information on his whereabouts to contact detectives. They also warned he should not be approached.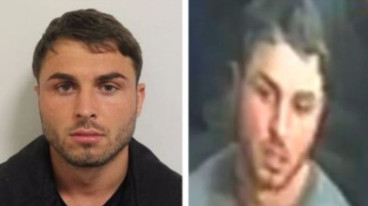 Police executed an arrest warrant at his £1m home and allegedly discovered illegal firearms and a cannabis farm, The Sun reported.
A man, 54, and woman, 52, were arrested in connection with the police findings – but Collins was not present.
Two other men are also wanted for questioning over the attack.
Officers said the substance sprayed is still being tested, but that it is "believed to be acidic". There was nothing to suggest the incident was gang related, they added.
Among the injured were an Australian model, Isobella Fraser, 22, and the cousin of former Premier League footballer Jamie O'Hara.
Fraser, who suffered chemical burns to her arms, said she thought she had been caught up in the middle of a terrorist incident.
"I thought we were getting gassed," she told MailOnline. "I thought it was a terrorist attack or something. I was freaking out just because of all the things that have been happening.
"I actually couldn't breathe and I was coughing. And then I just felt this thing on my arm and then I realised it was some sort of acid.
"Doctors don't know exactly what the substance was but I am sure it is going to leave me scarred – at the moment I have a huge purple mark on my back."
She added: "It's not what you expect when you go out, I had never heard of this happening but apparently acid attacks are quite common in the UK. It just really freaks you out."
Fraser was discharged from hospital with her sister, who was also injured. The pair must return to hospital later this week to find out the extent of the scarring.
O'Hara, a former Tottenham Hotspur midfielder, described the acid attack as "sick" after his cousin Sadie was left with burns.
He wrote on Twitter: "Sick that my cousin got burnt from this acid attack in hackney, innocent people get injured for the sick act of violence, guy should get life."
Detective Inspector Lee McCullough, of the Met Police, said: "We now have 20 people suffering from the effects of an acidic substance being sprayed in a confined space in a busy nightclub. All have burn related injuries.
"The noxious substance used has not yet been confirmed but samples retrieved from the scene have been sent for analysis. If you were there and saw anyone involved inside or leaving the nightclub, please get in touch."
---
Anyone with information that may assist police should call detectives from Hackney CID via 101 or via Twitter @MetCC. To remain anonymous, call Crimestoppers on 0800 555 111.