London Bombings: 7/7 tributes led by Mayor Sadiq Khan on 11th anniversary of terror attacks
Mayor of London, Met Police commissioner and London Ambulance chief lay flowers at 7/7 Hyde Park memorial.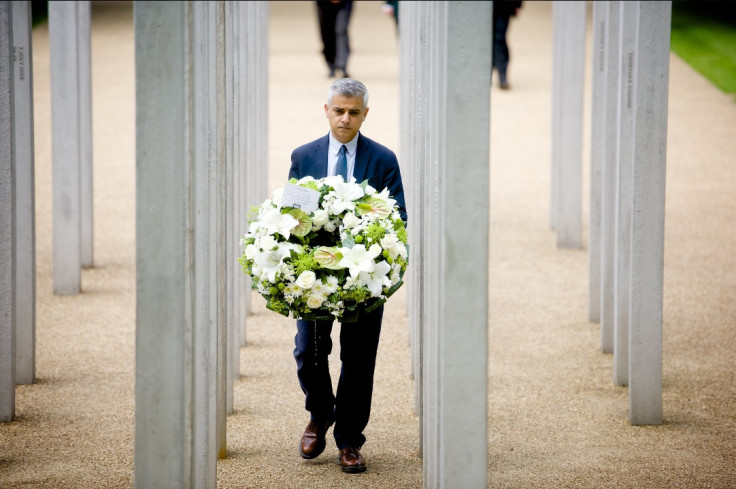 London Mayor Sadiq Khan has led tributes to those killed in the 7/7 London bombings on the 11th anniversary of the terror attacks. Fifty-two people were killed and more than 700 injured in a series of explosions which tore through London's transport system on 7 July 2005.
Suicide bombers Mohammad Sidique Khan, 30, Shehzad Tanweer, 22, Habib Hussain, 18, and Germaine Lindsay, 19, were all killed when their rucksacks packed with explosives were detonated on London's tube and bus networks.
Attending a ceremony at the 7/7 memorial in Hyde Park, Khan left a wreath bearing the message: "11 years on, we must never forget those who lost their lives on 7/7 and the unity Londoners showed in the face of attack."
Khan stood alongside Met Police commissioner Sir Bernard Hogan-Howe and London Ambulance Service chief executive, Dr Fionna Moore, who said: "Today, we are joining Londoners, and in particular survivors and the families and friends of those who died, in remembering the events of 7 July.
"We look back on that day with sadness for the innocent people who were injured and who lost their lives but also pride in the way our staff responded in the wake of those tragic events.
"Our thoughts remain with the families and friends who lost loved ones and those who were injured that day."

© Copyright IBTimes 2023. All rights reserved.