In recent years, the signet ring has become more a fashion symbol than one of status or tradition. You can pick up an imitation version in most high street shops but there really is nothing like a beautifully hand engraved design to make you want the real deal.
As part of London Craft Week, Rebus in Leather Lane are opening their doors to the public to show how a real signet ring is made and why the age old tradition of hand carving is something that we should endeavour to keep going.
Emmet Smith began working in RH Wilkins engravers, a company he eventually bought, and set up Rebus as part of Wilkins to hone in on signet engraving and has since won 23 Goldsmiths Craft Council competition awards with the Rebus team.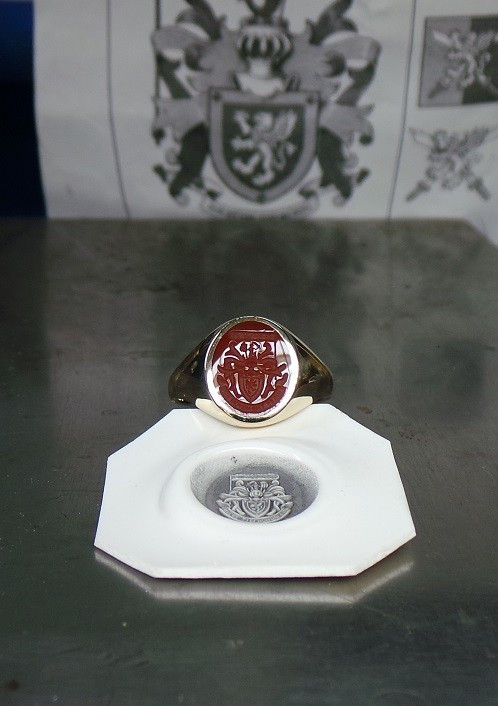 Having previously been tasked with the likes of engraving the F A Cup and the Six Nations trophy, his heart now lies firmly in the tradition of his signet rings now. Smith and his small team are busy working away in the basement of their beautiful headquarters are busy when IBTimes UK came to visit.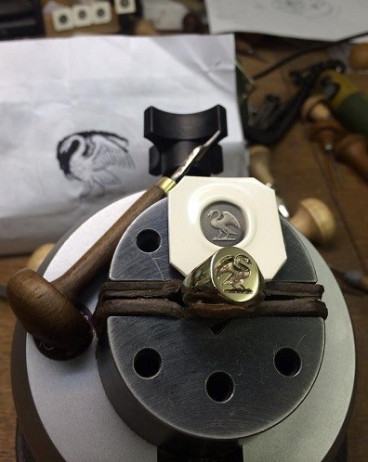 The workshop is strewn with beautiful hand-drawn pencil images of crests, animals and script writing that are ready to be engraved onto a chosen ring. The preconceived ideas of signet crests only being available to the landed gentry and Rebus will happily design an emblem for anyone. "Everyone thinks that signet rings are synonymous with heraldry" Smith tells us "and if they don't have a family crest or are not part of the landed gentry you can't have one. It's not true, they've been around for thousands of years, much longer than heraldry ever has."
Rebus take in designs from everyone, from celebrities and sport stars to newlyweds looking for an alternative to the traditional wedding band. Taking inspiration from the customer the team design a miniature image or select a family crest from their files before transferring the drawing onto a die stamped signet ring (the best rings available) and getting to work engraving. Emmet and the team have had to make many of the tools they use, as they simply do not exist and shops won't make them as they will last for hundreds of years. A huge collection of chisels, hammers and vices are put to work.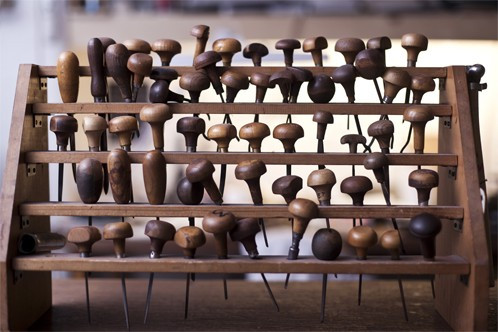 Like many artisan craft houses, Smith also faces many challenges keeping the business going, not through lack of custom but a shortage of new apprentices and talented engravers. As a rule, Smith likes to take on two apprentices at a time that are indentured through Goldsmiths Hall who invest in the new students. Rebus will train all apprentices for five years, to a professional level, and pride themselves that most choose to stay on for many years after training.
The craft world can seem rather insular and not just anyone can enter into but Smith was adamant that anyone interested in taking on engraving or similar practises could get involved. "There's not many people doing it so its hard to get an apprenticeship there's probably only one or two firms training " "you've just got to keep knocking on doors. In some countries the crafts have died out and there's no one to teach and then its an extinct craft so it's essential to keep it going."