A London businessman is battling with the Bangladeshi government after it mysteriously disconnected his telecommunications firm in what he believes is a politically-motivated and illegal sabotage.
Naufal Zamir, owner of Canary Wharf-headquartered Zamir Telecom, had his business disconnected without notice or reason from the state-owned Bangladesh Telecommunications Company Limited (BTCL) in March 2014, which he says has caused him significant financial losses.
Now Zamir is taking the telecom minister responsible for the order, Abdul Latif Siddique, to court claiming it is an unlawful disconnection because it breaches a previous court order.
And he wants the UK government to put pressure on Bangladeshi authorities to reverse the decision and leave his business alone.
Zamir's father is Zamir Uddin Sarker, a former Bangladeshi government minister, speaker of the parliament and prominent political activist for the Bangladesh Nationalist Party (BNP), which is the main opposition to the ruling Awami League – and he thinks this is the reason for the treatment of his business.
"I have personally never been into politics. I have never done politics. I haven't been to Bangladesh for the last seven years," Zamir told IBTimes UK.
"What they think is, if they let anyone do business who is from the opposing party, that money is going to be invested to fight against them politically. I think from that view they are coming after me.
"That is the prime motive. There is no other motive. Personally, [Siddique] doesn't know me at all. It's completely political. It's a political issue."
In 2010 when a similar situation arose, Bangladesh's Supreme Court overturned the decision and ordered the reconnection of Zamir Telecom. Zamir argues that the latest move by Siddique is in contempt of court because of the 2010 order.
Zamir said UK Trade & Investment, the government's overseas business department, has made contact with the Bangladesh telecoms ministry to ask why his firm has been cut off.
"They have communicated concerns to BTCL ... and they are waiting for a response from them," he said.
"It's been a while. The government unfortunately is not as efficient as in the west, so we are still waiting for the response."
His lawyers fear that senior members of the judiciary will be put under pressure by the Bangladeshi government to rule against him.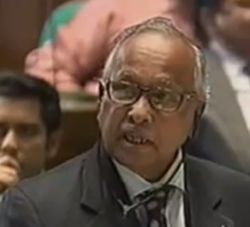 IBTimes UK has approached UKTI to ask what representations it has made about the situation, but the department had not responded at the time of publishing.
The case is complicated by existing arbitration between Zamir Telecom and BTCL. Both have financial claims against each other around price manipulation and disputed invoicing.
Zamir said he is disputing BTCL's claim against his firm, which he puts down to playing politics, but he expects Siddique to cite this as a reason for the disconnection.
However he maintains this dispute does not justify the disconnection because it would not overturn the existing 2010 court order.
The Bangladesh Posts and Telecommunications Ministry had not responded to IBTimes UK's request for comment.
BTCL
The Awami government, which took power in 2009, is planning to part-privatise BTCL. It wants to sell shares in BTCL to the public, but the business is losing money.
One anonymous senior source at the BTCL told the Dhaka Tribune that "frequent policy shifts have made us nearly bankrupt".
"Once, we were the lone stakeholder to maintain the international calls. Now there are another 28 private players. Most of them are not real players. How then we can maintain the income?" he said.
The number of BTCL subscribers plummeted between 2012 and 2013, from 935,760 to 903,299.
Zamir Telecom, which connects international calls to Bangladesh through the BTCL network, has seen its sales rise from £2.8m in 2008/09 to £24.6m in 2012/13.
It has twice been named in the Sunday Times Tech Track 100, which ranks British technology firms with the fastest-growing sales.
Corruption
Bangladesh is rife with corruption. Transparency International ranked it 136<sup>th out of 177 in the world for corruption during 2013.
This is an improvement on 2005's ranking, when it was judged to be the most corrupt country on the planet.
"Generally there is a widespread understanding that if you are a person who is somehow connected with the opposition, whether by association or being a relative, you are not going to get any business which requires some form of government assistance – unless of course you have a partner that belongs to the ruling party," Zamir said.
"Then he will bail you out. That's the rule of the day, unfortunately."
Zamir added that these things are often to be expected in developing countries, but "what I have never seen is the businesses of the opposing parties sabotaged and very sinister rules deployed".
"They try to make sure they cannot sustain any businesses, because unfortunately the concept has come to be that if we are in power then if anybody is going to make money it will be us. No-one else can make money."
Minister Siddique
Siddique is a controversial figure in Bangladesh. At the end of March, reports emerged in the Bangladeshi press alleging that he had beaten an electrical engineer doing work at his home.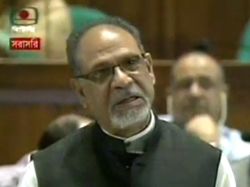 In 2013 while he was textiles minister, Siddique wrote a critical letter directly to the country's US ambassador Dan Mozena, violating diplomatic norms and causing an uproar.
Siddique was irritated by comments Mozena had made on introducing trade unions into the clothing industry, but ordinary protocol is for contact with diplomats to be sent through the foreign ministry in Bangladesh.
According to the BDNews24 website, a member of the BNP and Supreme Court advocate Gazi Kamrul Islam Sajal filed a police complaint against Siddique for threatening to kill him.
In January, Siddique fell ill with Hepatitis-B.