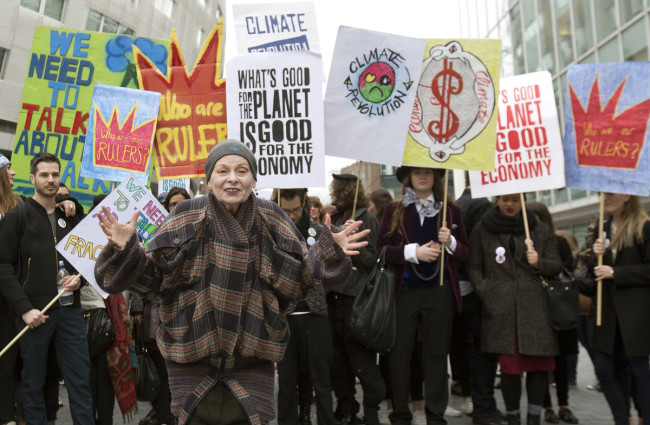 Vivienne Westwood has joined hundreds of anti-fracking campaigners marching through London in protest against the controversial gas extraction process.
Members of protest groups including Frack-Off have descended upon the capital and Jumeriah Carlton Tower in Knightsbridge, where the Shale Gas Forum is being held.
Armed with placards decrying fracking as well as anti-capitalist ones, protestors have held a "fracked future" carnival featuring speakers including fashion designer Westwood and comedienne Josie Long.
Participants were encouraged to dress up in a way they thought represented a toxic future, while a samba band and music from dub step artist Jamie King provided the soundtrack to what has so far been a peaceful demonstration.
Westwood said: "It is clear that we are not being told the whole truth about fracking in the UK when we are told that it is safe. In fact, there are several potential threats to our countryside, our water and our health. We are running headlong towards climate change and more fossil fuels is not a solution."
The Shale Gas Forum will feature speeches from Andrew Austin, chief executive officer of IGas, Francis Egan, chief executive officer of Cuadrilla Resources and Dan Byles MP, chair of the all parliamentary group for unconventional oil and gas.
Attendees include representatives from energy companies Caudrilla Resources and Aurora Energy Resources Limited as well as from the politicians in the Treasury, House of Commons and House of Lords.
Its website claims: "This year will be crucial for the UK shale gas industry, with DECC set to announce its 14th Onshore Licensing Round, and the run-up to a General Election in 2015."