London Marathon 2012: Kenyan Runners Win Race [ PHOTOS]
The 32nd Virgin London Marathon was held on 22 April and a record number of runners turned out for the prestigious event, which was won by Kenyans Wilson Kipsang (the men's race) and Mary Keitany (the women's race).
Kipsang crossed the finish line in two hours, four minutes and 44 seconds, beating compatriot Martin Lel by a minute and seven seconds. Ethiopian runner Tsegaye Kebede took third, according to information from the London Marathon Web site.
Meanwhile, Keitany led a veritable army of Kenyan women runners to the finish line, in a time of two hours, 18 minutes and 37 seconds. The Kenyan women took the top five places of the women's elite event, with Edna Kiplagat, Priscah Jeptoo, Florence Kiplagat and Lucy Kabuu locking out the event for their country.
"I knew when I went away they have to work very, very hard to beat me as I was feeling very good in myself," Kipsang was quoted as saying by the Guardian, "I am sorry I didn't (break) the record but winning is the most important thing for me. I feel a little tired now, but I am happy and tired." The winner also added he hoped the win would help secure him a place for the Olympic event, to be held on 12 August.
"I have done my part. Now it's up to the officials at Athletics Kenya to do their selections, " Kipsang said, in an Associated Press report.
In the women's elite event, defending champion Keitany retained her crown, breaking the African record time in the process. She is now the world's third-fastest female marathon runner.
The wheelchair contests were won by local stars David Weir and Shelly Woods, with times of one hour, 32 minutes and 26 seconds and one hour, 49 minutes and ten seconds, respectively.
Incidentally, there was entertainment of a different sort as well. As many as 29 people created Guinness World Records during the race.
David Stone from Exmouth in Devon dressed as Count Dracula and broke the record for the fastest marathon while dressed as a book character and another runner, Alexander Scherz set a record for the fastest marathon dressed as a jester. Most bizarrely, the brother-sister duo of George and Charley Phillips set a record for the fastest marathon on stilts, reaching the finishing line in six hours and 50 minutes. For more details on outrageous records, check here.
There were a host of celebrities who took part in the marathon, including glamour model Nell McAndrew and rower James Cracknell. The winners, meanwhile, were greeted and awarded by Prince Harry.
"It's the first time I've been on the finish line to watch it. It's fantastic - a great atmosphere. Everyone's very, very happy," he told BBC 5 Live.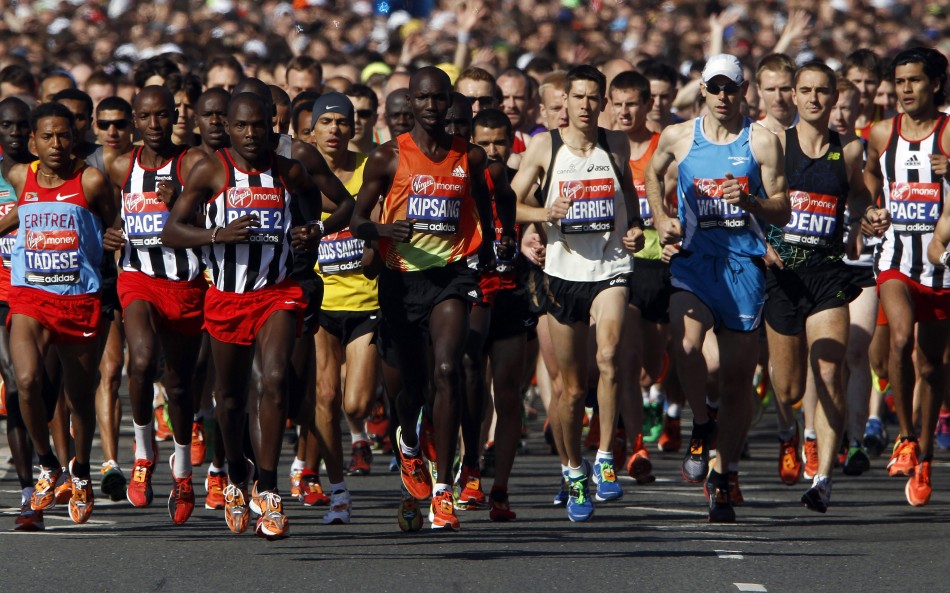 © Copyright IBTimes 2023. All rights reserved.