A London Marathon volunteer recorded the moment dozens of Deptford residents stole crates of water meant for runners. The incredible footage shows people carrying towers of crates of water across a road in south-east London while slower marathon runners were still battling through the 26.2 mile course.
Men, woman and children are seen helping themselves to stacks of 250ml bottles of Buxton from water stations between miles seven and eight at about 1.15pm on Sunday (24 April). Runners, some of whom are walking, can be seen in the background as residents stuff crates into trolleys.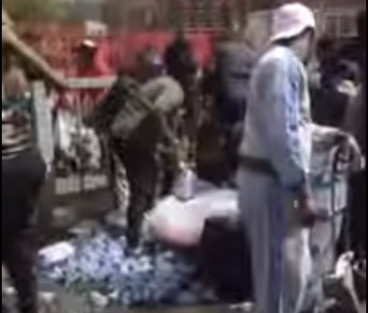 One volunteer caught the looting on camera before saying: "Obviously bad times in Deptford. The water supply has not reached here yet, as you can see by all the locals trying to nick all the water that is actually for the marathon runners. Although the last coach has gone past so the marathon runners are on their own. It's quite a sad state."
No arrests have been made and marathon director Hugh Brasher said there would be an investigation into the incident. "It's very disappointing to see water being stolen in this way from the official water stations for our runners," he said. "These water stations are staffed by volunteers and we are very grateful to them for their work on Race Day. We always brief our volunteers not to get into altercations if this kind of thing happens. We'll investigate this further."