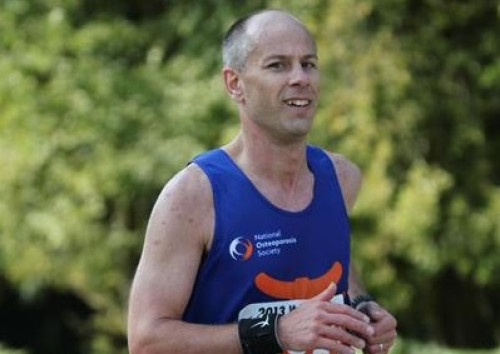 Tributes have been paid to Robert Berry, the 42-year-old London marathon runner who collapsed and died after completing the race.
Berry, from Reading, Berkshire, was pronounced dead at St Mary's Hospital after receiving medical treatment after he crossed the finishing line.
It has been revealed that Berry was running the marathon to raise money for the National Osteoporosis Society. Following his death, the donations on his JustGiving page rose from £2,200 to more than £25,000 in just over 12 hours.
Tributes were paid to the runner via his donations page. Berry wrote he was raising money for the National Osteoporosis Society after his mother was diagnosed with the condition aged 52.
Neil Cunningham wrote: "So sad to read this story. My own mum died from the effects of extreme osteoporosis at 59 and so I really appreciate what Rob was doing with his own mother in mind. Sincere condolences."
Another donator, Pukka, added: "Donating to show solidarity with a fellow runner, and so that this tragic loss is not entirely in vain."
Claire Severgnini, CEO of the National Osteoporosis Society, said "Our immediate concerns are for Mr Berry's family. Our thoughts and deepest sympathies are with them at this tragic time."
The sister of Claire Squires, the marathon runner who collapsed less than a mile from the finish line in 2012, also paid tribute to Berry.
Penny Squires wrote: "My amazing sister Claire died running the 2012 London Marathon. My thoughts are with your family. Here's to you Rob & Claire, two of life's most amazing people. Taken too soon xxx."
An inquest revealed that Squires, a 30-year-old hairdresser, died from cardiac failure. Her JustGiving page raised more than £1m for the charity Samaritans following her death.
A statement from the event organisers said: "It is with regret that we have learnt of the death of a competitor in the Virgin Money London Marathon.
"The organisers of the Virgin Money London Marathon would like to express their sincere condolences to the family and friends of the deceased."
Elsewhere, an elite runner from Sierra Leone is still missing after finishing the London marathon in 20th place.
Police said they had found Mami Konneh Lahun at her accommodation in Greenwich, but later retracted their statement and apologised for the error.