Conservative City Hall hopeful Zac Goldsmith has promised to follow in Boris Johnson's bombastic footsteps by "banging the drum" across the world for London's businesses. The Mayor of London candidate, writing exclusively for IBTimes UK, also warned that the capital "cannot afford" to elect Labour's Sadiq Khan.
"Unlike Sadiq Khan, I'll protect the funding for the next generation of Tube upgrades. Like Boris, I'll travel the world banging the drum for London business," Goldsmith said.
"To guide my approach, I'll also set up a Business Advisory Group, with members nominated from the business community themselves."
He added: "Back Khan, and you'll get a man who gave Jeremy Corbyn his job. Corbyn and Khan's Labour want to hike taxes, it describes business as the enemy and strikes as the ultimate weapon.
"Khan's flagship pledge will take £1.9bn out of our transport network at a time when that network needs investment. This is not a party that can be trusted with London's £600bn economy; it's an experiment that London can't afford."
But Khan, a former human rights lawyer, has promised to be the "most pro-business mayor London has ever had". The Labour candidate, writing in his election manifesto, added: "Not just because I've helped to run a business and understand the challenges that those trying to grow an enterprise face, but because I know that a prosperous, growing economy is central to ensuring that our city remains a place of opportunity."
'Dog-whistling campaign'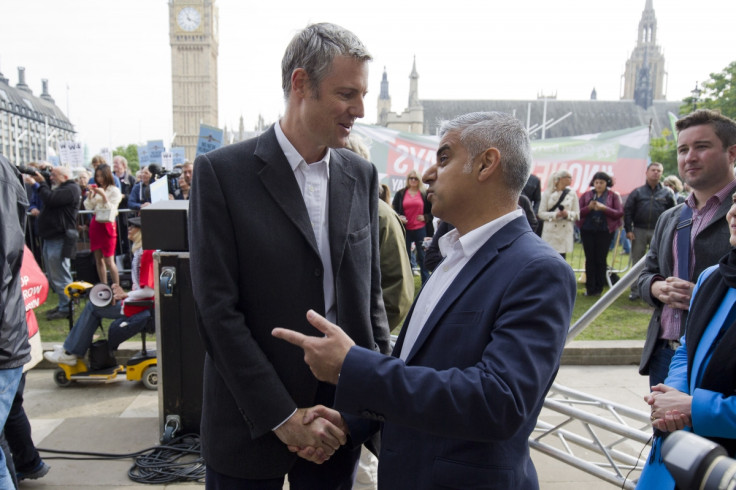 The Tooting MP is currently set to win the 5 May election, with the most recent opinion poll giving him a ten point lead in the second round of voting. The ComRes survey, of more than 1,000 people between 30 March and 3 April, put Khan on 55% and Goldsmith on 45%.
David Cameron has since attacked the Labour hopeful for apparently sharing a platform with Sulaiman Ghani, who the Conservative leader accused of being a supporter of the Islamic State (Isis).
"The Honourable Member for Tooting has appeared on a platform with him nine times. This man supports Isis," Cameron said during prime minister's questions. The 20 April attack prompted Labour leader Jeremy Corbyn to heckle Cameron and Khan accused the prime minister of taking part in a "dog-whistling campaign".
The Labour candidate said: "The Tories are running a nasty, dog-whistling campaign that is designed to divide London's communities. I'm disappointed that the prime minister has today joined in.
"As Mayor, I will be the British Muslim who takes the fight to the extremists. I will keep focusing on keeping Londoners safe, and my positive vision for London's future – most importantly fixing the Tory housing crisis."