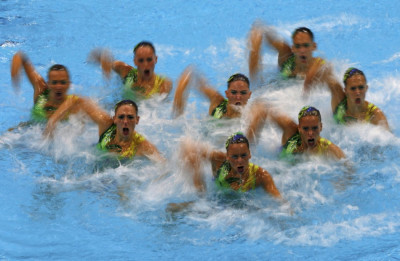 The synchronised swimming events were one of the highlights of the London Olympics 2012.
The sport is known for its acrobatics and grace, in movements which require extreme muscle strength and lung capacity as the performers have to spend long periods under water.
Synchronised swimming is all about beautiful routines performed with pin-point precision and a smile.
Though it looks easy, the sport requires extreme stamina and body strength. The routines are performed in time with music played through underwater loudspeakers.
It is one of the two women-only sporting disciplines in the Olympics, the other being rhythmic gymnastics. The event was introduced at the Los Angeles Olympics 1984.
In London, the synchronised swimming events - women's duet and women's team - were held from 5-10 August.
Team GB's eight-strong squad included Jenna Randall and Olivia Federici competing against athletes from Russia, Spain, the US, Canada, China, Egypt and Japan.
At London 2012, both events - duet and team - were won by Russian synchronised swimmers.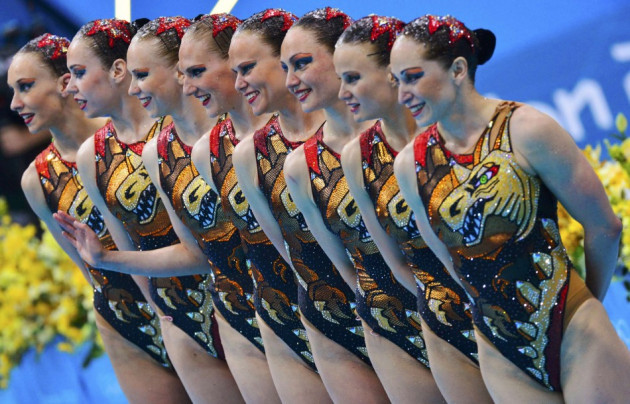 Dressed in black, red and gold with faces of creatures printed on them, they impeccably executed a team routine backed by military drumbeats and spectacular acrobatic jumps. The team comprised Anastasia Davydova, Maria Gromova, Natalia Ishchenko, Elvira Khasyanova, Alexandra Patskevich, Svetlana Romashina, Anzhelika Timanina and Alla Shishkina.
The Russians scored a total of 197.030 to win gold, followed by China with a score of 194.010. Spain won the bronze with 193.120 points.
Click "Start" to enjoy the best moments of this year's Olympic synchronised swimming: