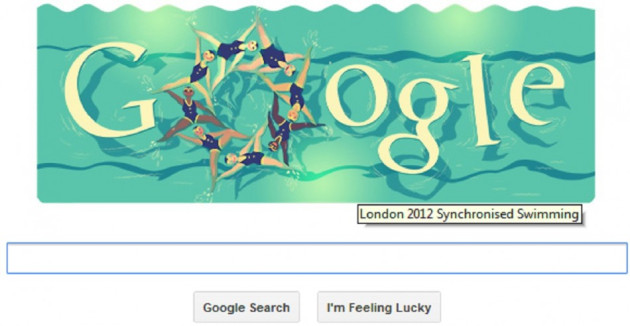 Synchronised swimming is featured as the theme of Google doodle on the ninth day of the London Olympic Games and its tenth in the series since the opening ceremony.
The image depicts a team of female synchronised swimmers doing a formation which replaces the second alphabet of the Google logo.
London Olympics synchronised swimming events - women's duet and women's team - are from 5 -10 August.
Russia, Spain, the US, Canada and Japan are strong contenders for medals in the category along with the host nation Great Britain. Jenna Randall and Olivia Federici are representing Team GB in the women's duet and are part of Britain's eight-strong squad.
'It's going to be positive knowing that everyone's behind you, everyone wants you to do well. Hopefully it will give us an extra boost," said Federici.
Though the pair finished 14th in the Beijing Olympics, they improved their ranking to the ninth in the World Championships held in 2011.
Synchronised swimming is all about grace under pressure and is one of the two women-only sporting events in Olympics, the other being rhythmic gymnastics. The sport became part of Olympics with the 1984 Los Angeles Games.
Synchronised swimming requires extreme stamina and pin-point precision to deliver beautiful routines in the pool. The routines are highly demanding which include acrobatic jumps, long periods under water and perfect symmetry, all performed with a smile to music from underwater speakers.
Judges look for execution, choreography, synchronisation, difficulty, interpretation and presentation to determine the winners.
It is the second doodle on synchronised swimming in the history of Google doodles; the first was posted as part of the 2004 Athens Olympics.