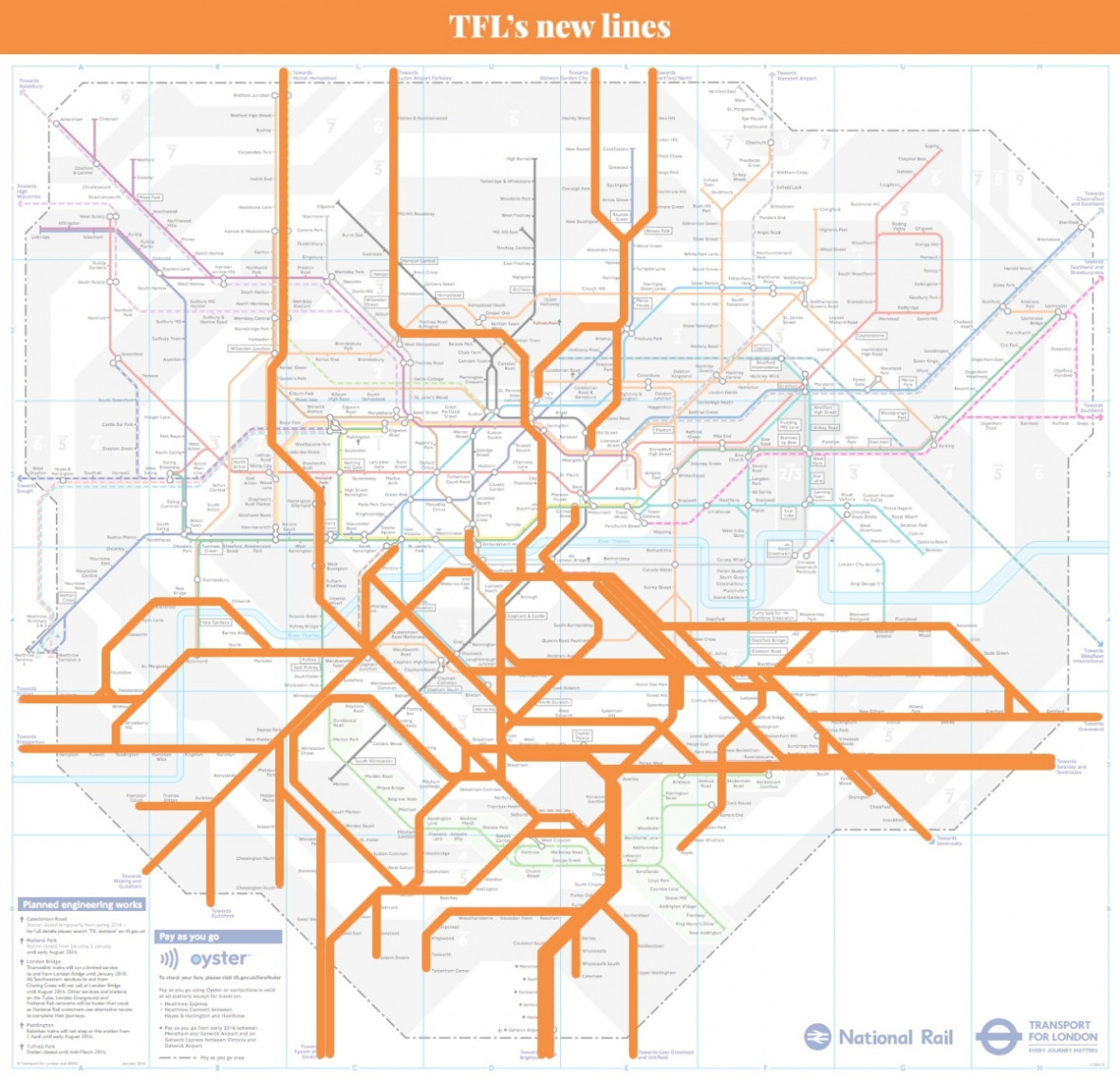 This is how Transport for London's proposed Suburban Metro would look. A sea of Overground orange would sweep the capital's creaking lines if TfL assumed control over the services as mooted on 21 January. Under the plans, which would start to be rolled out from 2017, it would manage Great Northern, Southern, Southeastern, South West Trains and Thameslink services.
The changes would bring in "more frequent services, more reliable trains, better interchanges and increased capacity", TfL said, while benefiting commuter using services from Cannon Street, Charing Cross, Moorgate, London Bridge, Victoria and Waterloo. The newly created "London Suburban Metro" service would borrow the principles of the London Overground service, a TfL spokeswoman said, with the potential for more than 80% of stations to have a train every 15 minutes, up from 67% today. More regular services would also run via Clapham Junction, south-east London and Kent.
Mayor of London Boris Johnson said in a statement: "Our railways have been the workhorse of the London and south-east economy since Victorian times. They're key in the day-to-day lives of millions of people and vital to our future prosperity, and that's exactly why this new partnership is such a seminal moment. By working closely together and taking on these new services, we're going to emulate the success of the London Overground and give the entire capital and surrounding areas the services they truly deserve."
While commuters might rejoice at the prospect of the lines coming under one roof, Richard East, of the Institution of Mechanical Engineers, warned they faced short-term pain. "The extent of the proposed transfer depends on which lines move from existing train operators to TfL," East said. "This could result in a major focus on train performance by TfL, resulting in increased reliability. There is also a possibility of new trains being introduced to meet forecast demand.
"TfL would need to ensure that passenger needs are achieved for these suburban lines – this includes increased capacity by removing seats. Greater focus would need to be placed on specific requirements, including a more frequent supply of trains. There could be an option to include seamless travel across various transport modes. This could cause disruption for passengers in the interim but could prove fruitful long-term. Thorough research is needed to ensure that all risks and interruption to passenger journeys are minimised."