London rents crisis: 'I am looking for a slutty girl who wants to stay rent free in zone 1'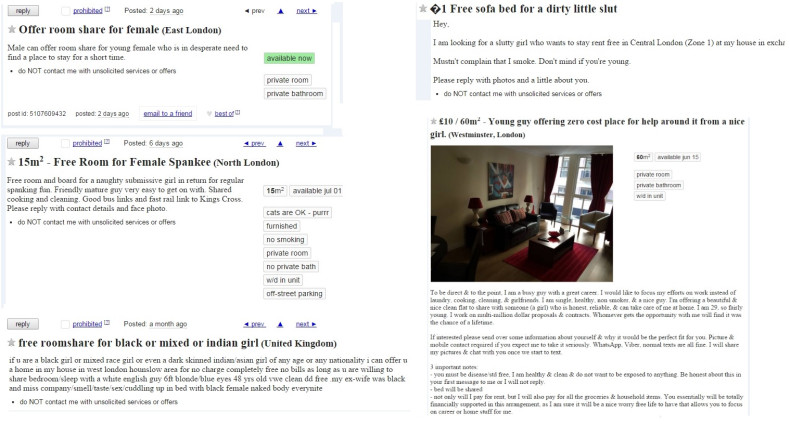 "I am looking for a slutty girl who wants to stay rent free in central London (zone 1) at my house in exchange for nsa [no strings attached sex]," says the "free sofa bed for a dirty little slut" advert on Craigslist, a popular listings website.
"Mustn't complain that I smoke. Don't mind if you're young. Please reply with photos and a little about you."
Above the advert are two pictures of a middle aged man. He is tanned and topless in one, wearing garish orange shorts and posing in front of the MI6 building on the Thames. His name, it transpires, is Rod.
Posing as a young, poor migrant woman from central Europe who works as a cleaner, IBTimes UK replied to the advert to ask for more information.
"It's a room share so you stay in the same room as me but you have your own sofa to sleep on," said Rod. "It is available now. Really I am looking for a girl who is OK to get on with and you have to be willing to spread your legs when I want to f**k you."
Flipboard magazine: London's rents crisis series in full
After some back and forth about working hours, possible number-swapping, and where we could meet, Rod became frustrated and gave up.
"It's OK. I got a girl coming round tonight so I'll see if she is OK," he said, and later deleted his advert.
The law
Amid London's worsening housing crisis are men like Rod trying to exploit it to their own sexual gratification. Rents have risen sharply in London because of a dearth in housing supply and intense demand.
The median rent for a room in London has soared by over 25% to £525 a month between 2011 and 2015, according to Valuations Office Agency data. The median London rent for all properties has also jumped by more than 25% over the same period, reaching £1,350.
Tenant arrears in England and Wales made up 8.7% of all rent payable in June 2015, according to fresh data from the Your Move and Reeds Rains property agencies, up from 7.8% in June 2014.
Those at the bottom of the income scale in London are among the hardest squeezed because of government cuts to housing benefit and other welfare payments, coupled with a steep fall in wages for several years after the financial crisis. The poorest women in British society, often migrants, are most at risk of exploitation.
And it is out of this mire that adverts such as Rod's have sprung: a nexus of exploitation where misogyny, sex and money meet. But these chancers risk prosecution by doing so because soliciting sex in exchange for something of financial value is potentially in breach of prostitution laws.
According to the Crown Prosecution Service (CPS) guidance for the Sexual Offences Act 2003, it is against the law to incite prostitution for gain. The guidance says:
Causing or inciting prostitution for gain: Section 52 Sexual Offences Act 2003

This offence came into force on 1 May 2004.

Under section 52(1) a person commits an offence if:

a) he intentionally causes or incites another person to become a prostitute in any part of the world, and
b) he does so for or in the expectation of gain for himself or third party.

[...]

"Gain" is defined in Section 54(1) as:

a) any financial advantage, including the discharge of an obligation to pay or the provision of goods or services (including sexual services) gratuitously or at a discount; or
b) the goodwill of any person which is or appears likely, in time, to bring financial advantage.

"Prostitute" is defined in Section 51(2) as:

"a person (A) who, on at least one occasion and whether or not compelled to do so, offers or provides sexual services to another person in return for payment or a promise of payment to A or a third person; "prostitution" is to be interpreted accordingly."
"Payment means any financial advantage, including the discharge of an obligation to pay or the provision of goods or services [including sexual services] gratuitously or at a discount," a CPS spokeswoman says. "Therefore it is not restricted to money changing hands."
Personal details revealed
Several of the posters were approached by IBTimes UK. Many were quick to reveal personal details, such as phone numbers, email addresses, their employer, photos and even full names. Some showed digital naivety and thought they were maintaining their anonymity by revealing only their phone numbers.
Running the number of one through Facebook revealed he had linked it to his profile – complete with work details, friends and family names and contacts, images of his children. Another had linked his mobile number to his company details – a large hotel in Hackney, which he owns and runs – so could also easily be identified by running the number through Google.
Another man gave his name, number, photo and two different email addresses. His home address was easily found by searching through Google because he had put his email on a planning application to a local council. He runs a successful architectural business, according to his LinkedIn page.
"Free room and board for a naughty submissive girl in return for regular spanking fun," said his advert. "Friendly mature guy very easy to get on with. Shared cooking and cleaning. Good bus links and fast rail link to King's Cross."
We have decided not to reveal the identities of these men. But IBTimes UK did approach several for comment.
A Chinese department store worker in his early thirties who was advertising a "free" room share in east London – "for free rent we share my kingsize bed and have sex now and then" – said it was a mistake and he would not do it again.
"I was doing this as I was just wondering if people was actually going to [be] willing to do this sort of thing for money," he said. "End of the day, I would have just offered her a place to stay with no actual sex involved if she really needed a place to stay."
'Get a life'
The Hackney hotel owner was demanding "to give and receive nude massage and like cuddling and touching stroking and intimate company" in exchange for a room in a shared house he owned. But we would have to be discrete, he added, because his wife was not allowed to know.
When told he was speaking to a journalist, the hotelier backtracked and said he had given fake details over email, telling us to "get a life". Contacted again by phone, and after initially responding to his name, he again backtracked when the nature of the call became clear, saying he was somebody else and we had the wrong number.
It was made clear to him that we knew his identity and had the correct phone number. Asked for comment on his Craigslist advert, he repeated "not interested" several times down the line and hung up.
When contacted by IBTimes UK, the architectural businessman looking for "a naughty submissive girl" for spanking said: "I struggle with extremely high blood pressure and am currently extremely unwell, so I have to be honest your email has not helped."
He said he finds his kink for spanking shameful, even though it is not unusual, and that he struggles to get out and meet like-minded women.
"That is why when a friend suggested checking out Craigslist and I saw the kind of adverts that were being posted, I thought of offering accommodation in return for someone who enjoyed what I was offering," he said.
"I have always answered any questions regarding the offer truthfully, and in truth most responders have not gone further than a few emails.
"Do I feel guilty? Of course I do. But I have had a couple of girls who were exactly the right people I was hoping to attract and in fairness I looked after them extremely well and we parted as friends.
"One had to go home and look after her mother who had cancer and the other because her visa ran out and she went home to her family. We still stay in touch. I have also helped two girls who were not into spanking because they were in desperate situations, and nothing was given in return other than friendship.
"One eventually made up with her family, the other stayed with me for a while and I helped with looking after her while she got well and strong enough to get out of her situation and found herself a new life. We are still friends I think. I am happy I could help them."
He later added: "I am a genuinely helpful person and I do care about people. I am sure there are some very unpleasant men out there who do want to exploit the housing crisis, but I am not one of them. That said, as promised, I have starting deleting my ads. I think the older ones get automatically deleted anyway. I hope so."
Hollow problem
The adverts are a strange blend of the bleak and the banal. You will have to subjugate yourself to the sexual whims of a BDSM fetishist but at least it has off-street parking. Some of the adverts are worse than others. One explicitly targets a "young female who is in desperate need to find a place to stay".
Another reads: "If you are a black girl or mixed race girl or even a dark skinned Indian/Asian girl or any nationality I can offer you a home in my house in [the] west London Hounslow area for no charge, completely free, no bills, as long as you are willing to share a bedroom/sleep with a white English guy, 6ft, blonde/blue eyes, 48-years-old, vwe [very well endowed], clean, dd [drugs and disease] free. My ex-wife was black and [I] miss company/smell/taste/sex/cuddling up in bed with [a] black female naked body every night."
Fortunately, it appears to be a hollow problem. While some men are trying to use the housing crisis to their sexual advantage, there is little evidence that they are finding much luck with their adverts.
Solace Women's Aid, a support and refuge service for London's women in need, was troubled by the issue when it was raised by IBTimes UK. But the organisation said its frontline staff were not aware of any cases in the city related to free-rent-for-sex exploitation.
Craigslist had not, at the time of writing, responded to a request for comment.
Correction: When referring to the CPS guidance, the original version of this story said it was "against the law to make or promise payment in exchange for sexual services". This is true, but only if a prostitute is subjected to force, threats or deception. Otherwise payment for sex is not illegal. The article has been corrected and clarified.